Summer Stock
(1950)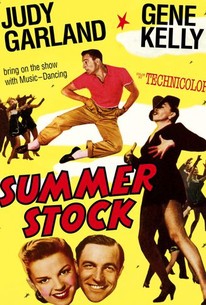 Movie Info
Summer Stock represented Judy Garland's swan song at MGM. Garland plays the owner of a New England farm which entrepreneur Gene Kelly hopes to convert into a summer theatre. Gloria DeHaven, a member of Kelly's troupe, also happens to be Garland's sister. Aware that the farm is having financial difficulties, DeHaven talks the recalcitrant Garland into allowing the troupe to set up shop in the barn. All sorts of romances wind their way through the summer air as Kelly mounts his production. In the long-anticipated finale, Garland herself steps into the leading-lady slot vacated by her petulant sister DeHaven, and of course the show is a smasheroo. To watch Garland joyfully perform such numbers as "Friendly Star," "If You Feel Like Singing, Sing," and her legendary "drag" specialty "Get Happy," you'd never suspect that she was on the verge of a nervous breakdown (the film opened while Garland was recovering from a suicide attempt). Adding to the overall exuberance of Summer Stock are such dependable supporting players as Eddie Bracken, Phil Silvers, Marjorie Main and Hans Conried (cast as the troupe's resident romantic baritone!)
Critic Reviews for Summer Stock
All Critics (5) | Fresh (5) | Rotten (0)
One of the better musicals, largely due to the winsome singing and acting of Judy Garland as a country lass whose barn is taken over by a bunch of stage-struck screwballs.
The classic number belongs squarely to Judy, as she's nothing less than sensational as she belts out "Get Happy."
...has a certain looseness compared to other MGM musicals.
Audience Reviews for Summer Stock
An okay movie, full of song and dance numbers with little story, which kind of gets on my nerves sometimes. I'd say this is an average musical comedy.
½
Watch Judy's weight fluctuate from scene to scene. Be that as it may she is breezy and sings "Get Happy" and one of her most beautiful songs "Friendly Star"
I think I've said how much I'm all-in for musicals in general. This is true, but Summer Stock will never make my all-time favorite list. The story is messy, the many talents of Marjorie Main are wasted, and the songs are not exactly, for the most part, what strike me as hummable tunes. Still, for a balls-out performance from an unexpected quarter, check out Phil Silvers. Amazing.
Lanning : )
Super Reviewer
Summer Stock Quotes
There are no approved quotes yet for this movie.