Summer Wars (Sama Wozu)
(2010)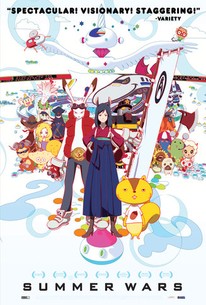 Summer Wars (Sama Wozu) Photos
Movie Info
Kenji is a teenage math prodigy recruited by his secret crush Natsuki for the ultimate summer job - passing himself off as Natsuki's boyfriend for four days during her grandmother's 90th birthday celebration. But when Kenji solves a 2,056 digit math riddle sent to his cell phone, he unwittingly breaches the security barricade protecting Oz, a globe-spanning virtual world where millions of people and governments interact through their avatars, handling everything from online shopping and traffic control to national defense and nuclear launch codes. Now a malicious AI program called the Love Machine is hijacking Oz accounts, growing exponentially more powerful and sowing chaos and destruction in its wake. (c) GKids
Critic Reviews for Summer Wars (Sama Wozu)
Audience Reviews for Summer Wars (Sama Wozu)
A rogue artificial intelligence wrecks havoc on "Oz," an omnipresent virtual reality network of the near future, seizing control of most of the world's computers; a young math genius is the only hope to save the infrastructure. Decent juvenilia with outstanding psychedelic animations in the nonsensical but beautiful cyberspace battle scenes.
Summer Wars is another excellent movie from Madhouse and Mamoru Hosada, the director of The Girl Who Leapt Through Time. Like THWLTT, Summer Wars is a science fiction movie with heart. Instead of the humorous, poignant tone of the previous movie, Summer Wars focuses on family bonds and the inherent potential for mayhem that is an unavoidable part of our incredibly connected, increasingly virtual society. It's an easy to follow story that should have a lot of appeal for a broad audience. The dubbing and animation are wonderful, and the fact that so much of the events play out in the virtual world provides a lot of opportunities for some eye-catching visuals. The music is fine, but not quite up to the fantastic score of The Girl Who Leapt Through Time. I slightly prefer THWLTT, but both movies are fully recommended and I've given them the same score. They're wonderful films, even in comparison to the amazing movies that have been coming out of Studio Ghibli for years. I can't wait to see what Hosada is working on next.
½
Hosoda Mamoru's thrilling and surprisingly touching "anime" movie Summer Wars is this generation's War Games, a cautionary tale that while warning of humanity's over-reliance on technology (especially the new emerging cellular, virtual, internet and personal/portable technologies) also celebrates the human spirit by showing the importance of family and how those bonds triumph against any and all adversity however insurmountable. Hosoda once again delivers the goods with a timely, winning, intelligent, and very poignant anime/cartoon that will appeal both to adults and kids. The story begins rather innocently - high school computer geek Kenji (voiced by Kamiki Ryunosuke) and his classmate Takashi (voiced by Yokokawa Takahiro)spend their free time doing grunt coding/programming work to help support the global social network system known as "OZ". "OZ" isn't just a place for people to meet and socialize, play games and do research but is also tied into virtually everyone's daily lives (every single business, government, public service including the military are linked together -- think a Super World Wide Web). One day the high school's most popular girl, Shinohara Natsumi (voiced by Sakuraba Nanami) visits their classroom to ask a favor. Natsumi has to go back to her hometown in Ueda Prefecture to attend an annual family reunion and wants one of them to accompany her as support, as she says these gatherings are often uncomfortable. While both volunteer, it is timid and bashful Kenji whom she picks to go with her. Kenji soon realizes that things aren't exactly what they seem as he soon learns that the real reason Natsumi asked him to go with her is so that they can pretend to be a couple and to reassure her relatives that she is doing well in Tokyo. Natsumi wants to especially impress her influential grandmother, the resilient and authoritative Jinnouchi Sakae (voiced by the wonderful actress Terashima Junko) who is not only the matriarch of the family but who seems to know just about any and everyone in town. As with most family reunion films, the Jinnouchi Clan is quite an eclectic band of people including your atypical oddball relatives, noisy aunts and uncles, bratty grandchildren and mysterious cousins. One of those relatives is Natsumi's 13 year old cousin Kazuma (voiced by Tanimura Mitsuki), a social misfit who has been bullied at school in the past but who has found Internet fame via his online fighting alter ego and avatar "King Kazuma" (think a animorphic version of the "King of Fighters" character Terry Bogard). Another relative, the enigmatic Wabisuke (voiced with cool smoothness by Saito Ayumu) has also come back for the reunion after cutting ties with the family years earlier and who now lives abroad in the US. Much to Kenji's chagrin, he learns that Natsuki has always had a school girl crush for her handsome "uncle". The real story however unfolds when Kenji inadvertently breaks the security code/password for the "OZ" network (Kenji just so happens to be a mathematical prodigy who is able to crack complex computer code in his mind in a matter of minutes) thus allowing a super computer virus/artificial intelligence program called "Love Machine" to infect the network and cause all sorts of havoc both in the virtual world and in the real world (Love Machine uses OZ to crash major city energy grids, divert military satellite orbits, arm nuclear war heads and takeover/hack the information and Avatars of billions of OZ users). As Love Machine gets stronger and brings the world to total chaos, Kenji, Takashi and Kazama struggle to save the OZ network while Natsumi and her grandmother Sakae gather their friends and family together to help save their community from all the technological mayhem. As with many of the recent Pixar films, Hosoda's film succeeds at transcending the "cartoon" medium to deliver a story that is just as thrilling and poignant as any live action film. At the heart of "Summer Wars" strength is its likable cast of eccentric characters who make the audience care for them. The characters of Kenji, Sakae, Wabisuke and Natsumi are all very well developed and it is a credit to the talented voice actors that portray them that they are able to flesh these characters out so well and make them work on so many levels. Okudera Satoko's brilliant story celebrates the advancements that have been made in computer, internet and communication technology while also criticizing the over-reliance on those technologies to take care of our complete needs. As with Pixar's recent film "Up", Okudera's story celebrates the human spirit of individuals especially our elders and shows that despite their age, they bring a wealth of experience, world knowledge and tenacity that is absolutely invaluable. Enough can't be said of Hosoda's inventive direction and storytelling. As with his first anime film the "Toki O Kakeru Shojou" Hosoda has a knack for telling interesting and engaging stories. Never once is "Summer Wars" at all boring. Hosoda is able to mix both comedy and drama well and in fact there are also some genuinely tearful scenes that were really very touching. The animation work by the famed Madhouse group is stunning and beautiful to behold. While not as elaborate as some of the computer generated works of Pixar they are still quite effective at creating a believable world - from the lush backgrounds of the Ueda countryside, to the ultra detailed city scenes of Tokyo, to the imaginative virtual world of "OZ" they were able to do it all. Sadamoto Yoshiyuki's character designs were also quite good and he gave each character a unique and appealing look which seemed to match their personality well. Summer Wars is not just a great "anime" movie, it is just a great movie period and one that will have you appreciating your relatives and extended families however odd they may be.
Ariuza koraw
Super Reviewer
Summer Wars (Sama Wozu) Quotes
| | |
| --- | --- |
| Sakae: | And you always eat together as a family, even during difficult times, because being hungry and being all alone are the worst things that can happen to anyone. |
| | |
| --- | --- |
| Sakae: | Never turn your back on family, even when they hurt you. Never let life get the better of you. And if you remember nothing else, remember to find time to eat together as a family. Even when times are rough; especially when times are rough. There's no lack of painful things in this world, but hunger and loneliness must surely be two of the worst.Thanks to you, my precious family, I didn't know a moment of either of those the last ninety years. |
| | |
| --- | --- |
| Kazuma: | It's no game, it's a sport. Games are for people who don't care enough. In sports, you compete to win. |
| | |
| --- | --- |
| Kenji Koiso: | Quitting won't do you any good; you have to work for an answer. |
| Kenji Koiso: | Quitting won't do you any good. You have to work for an answer. |