Sunday Bloody Sunday
(1971)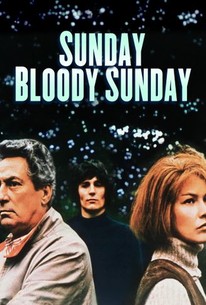 TOMATOMETER
AUDIENCE SCORE
Critic Consensus: Led by strong performances from its three leads, Sunday Bloody Sunday takes a sophisticated and groundbreaking look at the complexities of love.
Sunday Bloody Sunday Photos
Movie Info
This British film examines the choices individuals must make when confronted with a romantic relationship which is rewarding but does not offer them everything they want. In this sympathetic and psychologically precise drama, Alexandra Greville (Glenda Jackson), "Alex" to her friends, has a younger man as her sometime lover, the young sculptor Bob Elkin (Murray Head). Elkin is completely open about the fact that he is also the lover of her acquaintance, Dr. Daniel Hirsch (Peter Finch). These relationships continue in some kind of equilibrium until Alex and Bob agree to house-sit the children of a couple known to the three of them. In their roles, neither Head nor Finch "swished," or otherwise catered to homosexual stereotypes, and theirs was considered to be a groundbreaking, sympathetic portrayal of this kind of relationship, not condescending in any way. One highlight of the film is a scene in which Dr. Hirsch attends the Bar Mitzvah of his nephew. This critically well-received movie was unexpectedly successful at the box office. The film's director and screenwriter, as well as Jackson and Finch, were nominated for Academy Awards.
Critic Reviews for Sunday Bloody Sunday
Audience Reviews for Sunday Bloody Sunday
Glenda Jackson and the late Peter Finch deliver a solid drama and exploration of relationships but cannot be considered among the top pantheon of films.
John Ballantine
Super Reviewer
A divorcee and a doctor vie for the affections of a young businessman. John Schlesinger's British character study is a slow-moving, complex story of human relationships and sexuality. It's a film that i should like, but I found myself waiting for a central conflict to emerge. Everything remained under the surface, in classically British subtext. The performances are all nuanced and strong, especially Glenda Jackson and Peter Finch who play overly cerebral characters; their best work is in silence, when they're thinking, processing, scheming. Overall, I wish I could say that I enjoyed this film more, but it failed to grab me.
Jim Hunter
Super Reviewer
After his global triumph with the revolutionary film "Midnight Cowboy" (winner of the Best Picture Oscar for 1969), English filmmaker John Schlesinger came back in 1971 with the equally revolutionary "Sunday Bloody Sunday." It stars Peter Finch and Glenda Jackson as two middle-aged Londoners struggling for the attention of a young bisexual artist whom they share. Murray Head plays the artist. Partisans of gay liberation, such as myself, want very much to herald this film because of its extreme courage in openly showing two men kissing and making love and presenting it matter-of-factly. One cannot overstate how radical this was for well-known actors and an Oscar-winning director to do in 1971. But the truth can't be denied. It's a dull film. There isn't much of a story. Schlesinger wanted to do a slice-of-life depiction of English culture at this extraordinary time when revolution was in the air. Everything was questioned, including how we raise children, establish families, and establish romantic relationships. The problem is that the depiction is not that gripping. The slice-of-life approach can only work if the presentation of day-to-day life is filled with visual poetry. Visually, "Sunday Bloody Sunday" is rather pedestrian. Whereas "Midnight Cowboy" was an overpowering work of visual art, with extraordinarily poetic use of music, "Sunday Bloody Sunday" is visually flat, without the slightest bit of inspiring music. It has all the sonic poetry of a phone ringing. What little story arc there is consists of the artist planning a long trip to America and disappointing both of his middle-aged lovers. We listen over and over to Peter Finch and Glenda Jackson whine to the artist that he's not spending enough time with them, while he flits mercurially from one to another. This is not a menage-a-trois. There are two separate relationships. Finch and Jackson know of each other's existence, but they only meet at the tail end of the film. The artist never lies to either one of them. All cards are on the table. I like the critique of non-monogamous "no strings" relationships, which became quite the rage in the 1970s, with young bisexual men embodying this perhaps most quintessentially. But it isn't explored in enough depth or with enough poetry to be interesting for more than about a half-hour. After an hour, I was sick of hearing the characters whine to each other, saying very little. I love that Schlesinger and his cast had the guts to do a film like this at this time. I just wish they had more to say with the project. The first on-screen kiss between two men is not enough on which to build a film. That's just not enough to warrant 90 minutes of viewing. As I once said about Martin Scorsese's brave project "New York, New York," I admire the cojones but not the final product.
William Dunmyer
Super Reviewer
Sunday Bloody Sunday Quotes
| | |
| --- | --- |
| Dr. Daniel Hirsh: | When you're at school and you want to quit, people say 'You're going to hate it out in the world.' Well, I didn't believe them and I was right. When I was a kid, I couldn't wait to be grown up, and they said 'Childhood is the best time of your life.' Well, it wasn't. And now, I want his company and they say, 'What's half a loaf? You're well shot of him'; and I say 'I know that... but I miss him, that's all' and they say 'He never made you happy' and I say 'But I am happy, apart from missing him. You might throw me a pill or two for my cough.' All my life, I've been looking for somebody courageous, resourceful. He's not it... but something. We were something. I only came about my cough. |
| | |
| --- | --- |
| Dr. Daniel Hirsh: | I always expect Saturday to be the best day of the week. |