Sundown
(2016)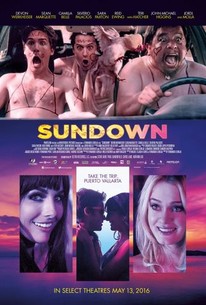 Movie Info
High school seniors Logan and Blake prepare for an EPIC Spring Break as they travel to the beautiful and exotic Mexican beach resort of Puerto Vallarta hoping to hook up with their high school crushes. Surrounded by hot girls in teeny bikinis, the guys are truly in heaven. After meeting at a club, Logan falls for a mysterious local beauty named Gaby but then realizes the next morning, when his grandfather's Rolex watch is missing, that she was after more than just his heart. Things go from bad to worse when the guys discover that the valuable family heirloom is now in the hands of a gangster who demands to be paid triple the watch's value before returning it. And that's just the beginning...
News & Interviews for Sundown
Critic Reviews for Sundown
Audience Reviews for Sundown
Sundown is your textbook low budget comedy where two people who would never be friends in real life travel to one of the only parts of Mexico not controlled by El Chapo in hopes of having one awesome night as buds before the main character follows his dreams to become an EDM DJ...These characters aren't bad but if they were real you have the feeling that they would be on CNN with the headline 'Dumb Americans Murdered In Mexico...Donald Trump Says the Wall Just Got 10 feet higher'. If you accept this movie for what it is you can have a decent time with this but it isn't something you need to run out and see. This movie is better suited for watching on Netflix while you are trying to kill time for something better to come on.
Jacob Smith
Super Reviewer
Sundown Quotes
There are no approved quotes yet for this movie.