Sundown: The Vampire in Retreat
(1990)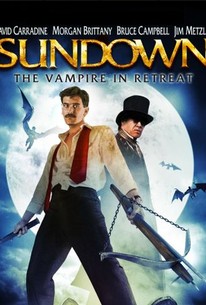 AUDIENCE SCORE
Critic Consensus: No consensus yet.
Sundown: The Vampire in Retreat Photos
Movie Info
Director Anthony Hickox (Waxwork) crafted this entertaining bit of horror-western fusion about the vampiric residents of a remote, dusty desert town who have chosen to derive their sustenance from a plasma-manufacturing plant in an attempt to put aside their monstrous nature and peacefully co-exist with humans. When the plant begins malfunctioning, the town's leaders summon the designer, David Harrison (Jim Metzler), to look into the problem. Soon after Harrison and his wife Sarah (Morgan Brittany) arrive, however, they find themselves in the thick of an escalating rivalry between two vampire factions -- one led by peaceful Count Mardulak (David Carradine), who ordered the blood plant as part of his plan to integrate the dying vampire race into human society; and the old-school bloodsuckers, under the sinister Jefferson (John Ireland), who consider Mardulak and his followers traitors to their predatory heritage. While the Harrisons' fates hang in the balance, the scales are jostled further by the arrival of a man named Van Helsing (Evil Dead star Bruce Campbell, in a surprisingly low-key performance), descendant of the legendary vampire hunter, whose disorganized efforts at wiping out town's undead populace are impeded by his growing attraction to a pretty young vampire (Deborah Foreman). With tongue firmly in cheek, this semi-parody plays off audiences' familiarity with the conventions of the vampire genre, but it seldom sacrifices creepiness and suspense when needed. It marked a creative step forward for Hickox (who would later stumble with Hellraiser III), who clearly tailors his projects to seasoned horror buffs.
Critic Reviews for Sundown: The Vampire in Retreat
All Critics (2) | Fresh (2) | Rotten (0)
If you're longing for the days when vampire movies weren't so long-in-the-tooth and are in serious need of a good time, then set yourself up with a visit to the small town of Purgatory.
October 1, 2008 | Rating: 3.5/5
Audience Reviews for Sundown: The Vampire in Retreat
½
One the oddest vampire flicks I've seen for sometime with a blend of western, redneck, comedy and horror which doesn't really come off 100%. I was hoping for an 'American Werewolf' type film and this is certainly bizarre enough to pull that off but the effects are pretty tame and nothing really truly exciting actually happens. There is a good cast in here its gotta be said, E. Walsh, Ireland, Caulfield, Carradine and horror comedy legend Bruce Campbell but the direction is weak and the film fails to grab your attention as a spooky vampire thriller, the fact that all the vamps are almost all old people and regular working Joe's just doesn't work here. I have seen some vamp Westerns before and they have always added to the mythology with their own cool ways but this misses the target simply cause it doesn't feel like a vamp film, its too camp and cheesy plus it looks kinda cheap too, shame as the films poster was always really nice.
Phil Hubbs
Super Reviewer
One of the better vampire movies that tries to do something new. It's a cheesy, fun, comic-book like 80's movie with a sense of humor and a rousing score.
A.D. Villarreal
Super Reviewer
½
Tongue in cheek, campy fun.
Anthony Valletta
Super Reviewer
Sundown: The Vampire in Retreat Quotes
There are no approved quotes yet for this movie.