Sunshine
(2007)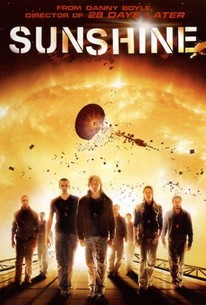 TOMATOMETER
AUDIENCE SCORE
Critic Consensus: Danny Boyle continues his descent into mind-twisting sci-fi madness, taking us along for the ride. Sunshine fulfills the dual requisite necessary to become classic sci-fi: dazzling visuals with intelligent action.
Movie Info
As the sun begins to dim along with humankind's hope for the future, it's up to a desperate crew of eight astronauts to reach the dying star and reignite the fire that will bring life back to planet Earth in this tense psychological sci-fi thriller that re-teams 28 Days Later director Danny Boyle with writer Alex Garland and producer Andrew Macdonald. The skies are darkening, and the outlook for planet Earth is grim. Though the encroaching darkness at first seems unstoppable, scientists have concocted one desperate last-ditch plan to buy the human race a temporary reprieve from the grim future that looms just past the horizon. A crew of eight men and women has been given a nuclear device designed to literally reignite the sun and sent hurtling through infinity on the most crucial space mission ever attempted. Suddenly, as the crew loses radio contact with mission control, everything begins to fall apart. Now, in the farthest reaches of the galaxy, the men and women who may hold the key to ultimate survival find themselves not only struggling for their lives, but their sanity as well. Rose Byrne, Chris Evans, Cillian Murphy, and Michelle Yeoh star in a film that asks audiences just what would become of humankind if the sky suddenly went black.
Critic Reviews for Sunshine
Audience Reviews for Sunshine
Boyle's entry to the space opera category begins well; crew introduction, personality dynamics, and plot direction, only the finale gets murky as the mission to save the Earth gets closer to resolution, as the ship gets closer to the sun.Still a worthy effort.
Kevin M. Williams
Super Reviewer
A remarkable, completely mesmerizing under-seen film from Danny Boyle about a group of eight astronauts sent up into space in hopes of reviving a dying sun 50 years into the future by setting off a nuclear bomb the size of Manhattan Island inside it. Everybody complains about the last 1/3 of this film, and I'm not quite sure why. Yes, it undergoes a dramatic shift in tone but I for one found it to add yet another thrilling layer to an already intense story. Cillian Murphy's all-out turn drives this film for the most part, with nice support from his supporting cast. More importantly, this thing is just beautiful to look at. The one thing I would complain about would be a lack of character development (then again, you could say the same thing for "Alien" and other classics, too, which I love) and an unclear look at why the main villain in the film chooses to do what he does. Still, as violent as the tone change might be and as underdeveloped or undercooked some of Boyle's and writer Alex Garland's ideas might look at times, this picture makes up for these shortcomings and some by providing a ridiculously hypnotizing story and action on-screen. The ending is both tragic and fitting, with an epic score to complement the orange waves of the beautiful sun captured in full-scope. I for one really, really like this movie.
Dan Schultz
Super Reviewer
½
Memorable and intelligent.
Sunshine Quotes
| | |
| --- | --- |
| Pinbacker: | For seven years, I spoke with god. He told me to take you all to heaven. |
| | |
| --- | --- |
| Pinbacker: | This is Pinbacker... Commander of Icarus I. We have abandoned our mission. Our sun is dying. All our science, all our hopes, our genes, are foolish! |
| | |
| --- | --- |
| Icarus: | Ninety seven percent of shield in full sunlight. |
| Kaneda: | Final panel and closing of shield is secure. |
| Capa: | You have to move now! Captain! |
| Harvey: | Kaneda's not going to make it. |
| Capa: | Captain! You have- |
| Harvey: | It's too far. |
| Capa: | Have to move! Why isn't he moving? |