Sunshine on Leith
(2013)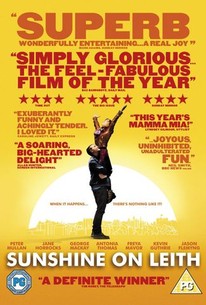 TOMATOMETER
AUDIENCE SCORE
Critic Consensus: Sunshine on Leith is a musical so charmingly good-natured that even viewers who don't like musicals may find it difficult to resist.
Movie Info
This film is a jubilant, heartfelt musical about the power of home, the hearth, family and love. It is the tale of one tight-knit family, and the three couples bound to it, as they experience the joys and heartache that punctuate all relationships. And they do it all while singing to the euphoric music of The Proclaimers.
Critic Reviews for Sunshine on Leith
Audience Reviews for Sunshine on Leith
½
And now for the hit British musical adaptation of 2013: "Leith Misérables"! Man, that was so lame, but hey, it's only fitting, as The Proclaimers themselves got mighty cheesy, yet apparently make some killer road trip music. ..."How I Met Your Mother" fans should get that, or at least they would if they actually knew that The Proclaimers were the guys who did "I'm Gonna Be (500 Miles)", a song that Ted and Marshall can't get enough of on the road, but is still so abusively overused that the play upon which this film is based had to sigh at the cliché and not name itself after The Proclaimers' only big hit... in America. Shoot, I guess they've got more than just the one big hit over in Britain, because I didn't figure they'd be big enough to warrant a jukebox musical, yet here they are, and sure enough, only the Brits are watching it, which isn't surprising, as we ignorant Americans don't do so hot with foreign language films. People, this is an Edinburgh-set, British Film Institute-funded project that is directed by Dexter Fletcher and features Peter Mullan, Jason Flemyng and musical interpretations of The Proclaimers' catalogue, so it's is so British that it may as well be technically considered Celtic-language to the Americans, considering that we have a perfectly understandable interpretation of the English language... boasts some guy from the deep South. Hey, no matter how much The Proclaimers and, of course, this film sticks to Scottish heritages and whatnot, I think that we can all understand the language of music, and if you think that's cheesy, well, you haven't seen anything until you've seen a musical interpret the music of The Proclaimers. No, people, this film is plenty of fun, it's just that it's more than just too British for its own good. If there are tropes to most every aspect of this, in some areas, refreshing little musical dramedy, then the film shamelessly hits them hard, with a certain laziness that annoys with every recognizable plotting and characterization trait, of which there aren't enough for you to recognize the characters as much as you probably should. Characterization is certainly colorful, but expository depth is lacking, at least right away in this film whose limitations in immediate development shake your immediate investment, which needs to be reinforced as quickly as possible if the film is going to be so inconsistent with its depths. The film doesn't so much feel as tonally inconsistent as it could have been, due to the selling of tonal transitions through layered performances and storytelling, yet when the film isn't working on building some kind of meat, it's getting way too fluffy for its own good, with fun, but cornball musical numbers amidst many a cheesy line and set piece. Actually, even when dramatic elements come into play, cheesiness follows, in the form of sentimentality that, while genuinely handled enough to be moving at times, superficializes a potentially meaty core and betrays potential. Really, I don't know if you can say that all that much potential is present, because through all of the conventions and cheesy tonal moments, there's something limp about the basic ideas of this character study, which could have at least had a heavier story concept, yet can't even carry all that much weight on paper. There's nothing particularly wrong with this dramedy's being so fluffy, but you've got to be willing to put up with a lot of limpness to depth before you can be compelled, and it's hard to do so when the execution of an overly fluffy idea proves to be shamelessly formulaic, undercooked and sentimental, to the point of securing the final product as kind of underwhelming, even for what it is. Regardless, what the film ultimately is is pretty decent dramedy fluff, albeit with highlights that are a little too few and far between, but no less present, within consistent strengths, the more recurrently solid of which are of a stylistic nature. Visual style is by no means outstanding here, largely because not much, if anything at all is all that unique about the cinematography, which is still inspired enough in its coloration and lighting, orchestrated by director of photography George Richmond, to have a subtle richness of warmth that compliments the aesthetic and tonal value of this lighthearted drama, yet isn't quite as notable of an artistic touch as the soundtrack. Perhaps the fluffy, narratively structured pop-folk style of The Proclaimers fits a musical interpretation a little too organically, to where the musical numbers feel near-startlingly conventional in their formula, yet the witty, if cheesy lyrics of Charlie and Craig Reid, combined with energetically theatrical scoring and solid vocals, offer a musical flavor that, despite being often forced and just as, if not more often too corny for its own good, marks particular heights in entertainment value. Even the musical numbers fail to be uniquely structured enough or controlled enough in fluffiness to be all that outstanding, yet they still prove to be pretty fun, while applying some freshness to a story that is otherwise lacking in flavor. The story, even in concept, is familiar and overly fluffy, with so little engaging material that the final product slips into underwhelmingness, and yet, the concept remains thematically intriguing as a romantic dramedy, with certain depths and layers that Stephen Greenhorn's script helps in selling through wit and colorful characterization, which is itself sold by colorful performances. The charm of the film goes augmented by charm found across the board in a game cast, and when dramatic material eventually comes into play, potentially jarring tonal shifts go smoothed out by organic emotional layers that help in crafting effective heights in compellingness. Some pretty solid performances are drawn out of a talented cast, and while you certainly have to give credit to the performers, Dexter Fletcher's clearly working well with the performers reflects a strong directorial influence that can also be detected within the use of the aforementioned style which keeps entertainment value consistent, until punctuated by a dramatic thoughtfulness that is often too sentimental for its own good, but moves when genuine material is realized. There are plenty of aspects to this film that simply don't work, and they really hold back potential, however limited it may be, but at the same time, there's enough here that, not simply works, but hits pretty hard to make a fair fluff flick, in spite of the shortcomings. When it comes time to fall down at the door (Da-da-da-da!), the final product falls short, held back by conventions, underdevelopment, cheesy fluff, if not sentimentality, and a somewhat limp story concept, which go challenged by the handsome cinematography, fun musical numbers, witty writing, strong performances and tasteful direction that make Dexter Fletcher's "Sunshine on Leith" a charming and sometimes moving dramatic fluff piece, lacking though it may be in impact. 2.5/5 - Fair
Cameron Johnson
Super Reviewer
After recently enjoying the debauched underbelly of Edinburgh in Irvine Welsh's "Filth", I was curious to see Scotland's capital feature again in a more lighthearted film. As a general rule, I avoid musicals at all costs as I'm just not that keen on people bursting into song every few minutes. However, I was impressed by actor Dexter Fletcher's impressive directorial debut "Wild Bill" in 2011 and couldn't resist the urge to see a musical featuring the fantastic songs of The Proclaimers. After a tour of Afghanistan, two young recruits, Davy (George MacKay) and Ally (Kevin Guthrie) return home to Leith, Edinburgh to adapt to civilian life. They both find love in their lives but realise that relationships are never easy, regardless of age. Davy hooks up with nurse Yvonne (Antonia Thomas) while Ally plans to marry Davyâ??s sister, Liz (Freya Mavor) who wants to move to America. Meanwhile Davyâ??s mum and dad Rab (Peter Mullan) Jean (Jane Horrocks) have problems of their own. There will more than likely be a few readers who are unfamiliar with the music of Scottish double-act, The Proclaimers but don't let that deter you from this film. The songs of Charlie and Craig Reid are perfectly fitting to this working class drama and Fletcher does a fantastic job of intertwining the struggles of his characters with the band's clever and poetic lyrics. As expected, people do burst into song every now and again but the delivery is so charming and delightful that it's very difficult not to get swept up in the enthusiasm of everyone involved. Such classics like "I'm on my way", "Letter from America" "I'm gonna be (500 miles", "Should have been loved" and, of course, the beautiful "Sunshine on Leith" are pitched perfectly for individual scenes either with the requisite verve or pathos that's demanded. Quite simply, the film is an absolute joy and credit has to go to Fletcher for another interesting and accomplished directorial outing. Admittedly, the film has it's moments of over sentimentality but the performances are committed enough to make it work overall; Peter Mullan's gravelly tones may not be to everyone's satisfaction but otherwise he's reliably solid while the likes of Jason Flemyng and youngsters George MacKay, Kevin Guthrie, Freya Mavor and Antonia Thomas all equip themselves well. For those that have seen "Little Voice", however, will not be surprised to hear that it's Jane Horrocks who's most comfortable with her numbers. Not only is she a highly underrated actress but also one with wonderful vocal talents. What with likes of Danny Boyle's "Trainspotting" and "Shallow Grave", Ken Loach's "My Name Is Joe" or even the aforementioned "Filth", it's refreshing to see a film set in Scotland that steps away from the grim social realism and paint the city inhabitants in a playful and joyful manner. Cheerful, easy-going and so warm that only the hardest and coldest of hearts will be able to resist it's charm. What "Mamma Mia" did for fans of Swedish band Abba, this little gem will, no doubt, do for those that enjoy The Proclaimers. Mark Walker
Mark Walker
Super Reviewer
Sunshine on Leith Quotes
There are no approved quotes yet for this movie.