Sunshine State
(2002)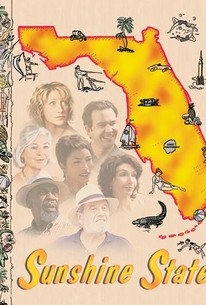 Movie Info
Like Lone Star, Sunshine State is a John Sayles film in which a multitude of characters struggle with the past, both recent and ancient -- both family history and the traumatic past of the land itself. It's set on the fictional Plantation Island in Florida, the history of which is based upon Amelia Island, where the film was actually shot. Lincoln Beach, the once thriving black community on the island, is based on the region's American Beach. Sunshine State portrays a relentless onslaught of real estate developers in the area. Desiree Perry (Angela Bassett, who was also in Sayles' Passion Fish and City of Hope) has returned to Florida for the first time since being sent away as a pregnant teen. She nervously brings her husband, Reggie (James McDaniel of NYPD Blue), an anesthesiologist, to meet her estranged mother, Eunice (Mary Alice). Eunice has recently taken in a troubled teenaged relative, Terrell (newcomer Alexander Lewis). Eunice's friend, Dr. Lloyd (Bill Cobbs), is trying to rally the Lincoln Beach community to slow development. Marly Temple (Edie Falco of The Sopranos, here playing a Southerner) runs the motel owned by her ailing father (Ralph Waite of Waltons fame), but has little interest in the business, and the developers are pressuring her to get her father to sell. She's in the process of ending a relationship with the local golf pro (Marc Blucas from TV's Buffy the Vampire Slayer), when a rather mercenary landscape architect, Jack Meadows (Timothy Hutton), catches her eye. Meanwhile, Francine Pickney (Mary Steenburgen) is so busy organizing the town's cheesy Buccaneer Days festival that she doesn't realize that her husband, Earl (Gordan Clapp, also of NYPD Blue and a Sayles regular) is suicidal. As usual, Sayles wrote, directed, and edited the film, with Maggie Renzi producing.
News & Interviews for Sunshine State
Critic Reviews for Sunshine State
Audience Reviews for Sunshine State
John Sayles' component film is a disappointment only because we expect so much more from him. A good film on the pressures of community and the price that individuals are willing to pay to "sell out". Nonethless, we expect more.
John Ballantine
Super Reviewer
A long movie - about two families in a Florida neighbourhood. The story includes a little of everything - family, greed, bias, expectations, suicide, fidelity, unplanned pregnancy, etc. etc. I enjoyed it - almost have to watch it again to recall all the stories.
½
Not the best John Sayles outing, but does have its moments.
Anthony Valletta
Super Reviewer
Sunshine State Quotes
There are no approved quotes yet for this movie.