Super Mario Bros.
(1993)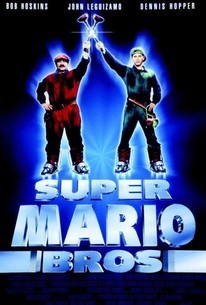 TOMATOMETER
AUDIENCE SCORE
Critic Consensus: Despite flashy sets and special effects, Super Mario Bros. is too light on story and substance to be anything more than a novelty.
Movie Info
The huge success of the video games featuring animated Italian plumbers the Mario Brothers led to this $42 million live action movie. The two brothers (Bob Hoskins and John Leguizamo) live in Manhattan and are chasing Princess Daisy (Samantha Mathis), who wears a necklace made from a meteor fragment. Its powers can free a race of reptilian creatures from the city's sewers. The villainous ruler of the creatures, who are descendants of dinosaurs, is King Koopa (Dennis Hopper). Koopa has kidnapped Daisy and taken her to the underworld of Dinohattan, which is rat-infested and strewn with garbage. The Mario Brothers must overcome many obstacles, just as they do in video games, to free the princess. The film spares no expense with its use of animatronic monsters and high-tech special effects. ~ Michael Betzold, Rovi
Critic Reviews for Super Mario Bros.
Audience Reviews for Super Mario Bros.
So bad I have not enough words to describe it. I can nitpick as a fan of the video game how this live action version fails and I can tear it apart as a film fan, but why bother. You can either avoid this film like a plague of fungus, or you can watch it over a few beers and laugh your ass off at its awfulness.
Edward Boxler
Super Reviewer
So could this be one of the worst films ever made?? yep we have a contender. Huge on hype and anticipation but hugely sole destroying upon release. Its hard to comprehend what the creators of this film were looking to achieve, the style, looks, soundtrack, plot, basically any links to the classic legendary videogame are none existent. The main issue with this film is the blatant fact it has NOTHING to do with the classic videogame. Apart from the two leads and the villain there is zero here to please anyone unless you have a metal and dinosaur fetish. True Hoskins does look wonderfully like 'Mario' in his red n blue jumpsuit and I did quite like the sliminess of Hopper as 'Koopa' but that's as far as it goes. The whole thing is just so damn odd, its a corny thing to say but its basically 'Mad Max' 'Highlander II' and 'Blade Runner' styled futuristic visuals aimed at children but utter nonsense. I guess this could be forgiven if the visuals were good or original but its all so ugly and scrappy looking. As if no one could really be too bothered so they just tossed a load of sparking metal, badly dressed extras and the most bizarre designed cars I've ever seen...everywhere. Nothing really makes much sense in any way whatsoever, sure its a kids film and 'Mario Bros' isn't a stern reality based concept but some of the decisions in this film!. The effects of course are horribly dated now which you can't poke fun at really but geez its nasty!. Early CGI effects, terrible stunts with obvious wire work, awful costumes, the fungus king and awful hairstyles...yet the dino model/puppet of 'Yoshi' looks good and moves quite nicely. It really does feel as if the bigwigs had gotten halfway through making one film and suddenly decided to turn it into a Mario film for kids. Just take the tonne of crappy looking junk they already had going and stick in some very loose references to Nintendo's big franchise and voila! instant Mario Bros movie hurrah!. I really believe this was the set of 'Lawnmower Man 2' transformed at the eleventh hour, and they still fudged that up too. Its not too often that a film is really so bad, really its not!! and this was suppose to be a blockbuster and franchise builder!. Sure there are bad films but this is really really quite terrible in all areas with virtually nothing to save its ass. I did quite like the use of the old Nintendo Super Scope 6. But was that a clever little easter egg wink/nod for the legion of NES/SNES players or did they really think they could fool everyone into thinking it was a proper purpose build prop?. I'll let you decide.
Phil Hubbs
Super Reviewer
Oh god this film... This film was every one of these actor's low points in their carrer's. From the second I was told there was a Super Mario Brothers movie, I knew it was going to be bad, but I wasent expecting it to be this bad. I should start off by saying the film was narrarated by Homer Simpson. I then new this would be the cheesiest thing EVER. Then it wasent til later in the film I was like, 'Wait, is that... no, that cant be Dennis Hopper!' but saddly it's true. Bob Hoskins as Mario, Hopper as King Koopa and MOJO NIXON AS TOAD!!! COME ON! What's sad is you know they wanted to make a sequal to this and thank the beard of Zeus they didnt! They didnt include Peach, Wario, Donkey Kong or even the main bad guy BOWSER! Please avoid this film at all cost, for your own sake... I can never get those 114 minutes of my life back...
Joshua Wilburn
Super Reviewer
Super Mario Bros. Quotes
| | |
| --- | --- |
| Iggy: | Was she corpulent, very corpulent? |
| Luigi Mario: | No, she was just really round. |
| Spike: | Ah, Big Bertha, the bouncer at the Boom-Boom Bar! |
| | |
| --- | --- |
| Daisy: | (in unison) Are you all right? |
| Luigi Mario: | (in unison) Are you all right? |
| | |
| --- | --- |
| Mario Mario: | Where the hell are we? This is crazy! |
| | |
| --- | --- |
| Luigi Mario: | No. It's Luigi Mario. Se because we're brothers, we gotta have the same last name. |
| Luigi Mario: | No. It's Luigi Mario. See because we're brothers, we gotta have the same last name. |