Superbad
(2007)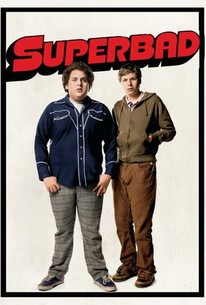 TOMATOMETER
AUDIENCE SCORE
Critic Consensus: Deftly balancing vulgarity and sincerity while placing its protagonists in excessive situations, Superbad is an authentic take on friendship and the overarching awkwardness of the high school experience.
Movie Info
Operating under the assumption that by procuring alcohol for an upcoming party they will finally be able to break their longstanding losing streak with the fairer sex, socially inept high school seniors Evan (Michael Cera) and Seth (Jonah Hill) set out to secure the adult beverages that could get them off of the geek list before they even attend college orientation. Evan is a bright young student whose outward sweetness belies his suffocating fear of heading off to college without his lifelong best friend Seth -- a hormone-driven mischief-maker who wasn't accepted to the same school as Evan. But Evan and Seth both know that college is a place of personal reinvention, and that if they are able to make that first leap together they will have forged a bond powerful enough to last a lifetime. Meanwhile, Evan and Seth's friend Fogell (Christopher Mintz-Plasse) acquires a hastily rendered fake I.D. that instantly endears him to a pair of truly irresponsible cops (Bill Hader and Seth Rogen). Penned by co-star Rogen in collaboration with former Da Ali G Show co-writer Evan Goldberg, the semi-autobiographical SuperBad was produced by Judd Apatow and directed by Greg Mottola -- who previously helmed episodes of Undeclared and Arrested Development. ~ Jason Buchanan, Rovi
News & Interviews for Superbad
Critic Reviews for Superbad
Audience Reviews for Superbad
Even though kids trying to get drunk and laid is far from being my favorite genre of comedies I have to admit this had quite a few good laughs. It exceeded its welcome, though and could have ended a bit earlier and more spot-on. At least the film has its heart at the right spot in the end.
This takes a page from Sixteen Candles, updates it for 2007, and elevates it to the max in this hysterical and heartfelt tale about some losers trying to have one epic final party before graduating and moving on to the next step. It's quite a simple set up: Evan and Seth have a chance to finally get laid, and all it's gonna take is a bunch of booze. That's where geek Fogell comes in. He's got a fake ID, but what should be a quick trip to the liquor store turns into a wild adventure that nuts keeps getting nuttier and nuttier as it progresses. I've enjoyed this movie ever since I first saw it, and with each viewing, I've come to appreciate it more and more, and it has really grown on me as being truly brilliant. I'm not kidding. This is one of the best films of its decade, and really is more than just a vulgar teen comedy. It is quite bawdy, but it's hilarious, well written, has tons of heart and character, and is done rather thoughtfully and intelligently, which is great since it sure doesn't seem like it would be this way initially. Christopher Mintze-Plasse steals the show as Fogell, better known by his ID name of McLovin, Emma Stone made her terrific debut her as the object of Seth's affection, Michael Cera puts another notch in his belt as the straightman Evan, and Jonah Hill owns as the larger than life Seth. Let's not forget the great supporting roles by Bill Hader and Seth Rogen as the world's most inept but cool cops, and great That Guys like Kevin Corrigan and Joe Lo Truglio. Evan Goldberg and Seth Rogen's script is dynamite, and really captures teen life (especially the wild side) quite nicely, Greg Mottola provides some great direction, and the music is just wonderful. It also makes me smile that the film owes a few debts to the 70s, specifically blaxploitation. All in all, this truly is a gem. It's unbelievably funny, surprising, and utterly charming...even when it's being lewd. Now that says something.
Chris Weber
Super Reviewer
Who would've thought that a movie like this would be one of the best films of 2007? Superbad stars Jonah Hill, Michael Cera and Christopher Mintz-Plasse and they play high schoolers who are trying to make a good name for themselves before high school ends. Doing so involves stuff like buying alcohol and trying to get laid. Superbad is one of those comedies that are just really rare. It managed to make me laugh my ass off with pretty much everything that happens in it. Movies like this are hard to come by now, but with the hilariously written script provided by Seth Rogen and Even Goldberg, this movie suceeds in being a movie that's laugh out loud funny through and through. One of the funniest things about the movie are the conversations the characters. They're crude, but they're still funny. It's one of those movies that have some really memorable quotes. Jonah Hill's character is primarily focused on getting with a girl he likes played by Emma Stone. Him wanting to get with her is the driving force of him trying to buy beer and it's what makes his character so funny. The fact that he flips out on his friends over a girl is funny to me. Of the teenagers, the one who ends up with the most fortune is Mclovin. I know his real name is Fogell, but he deserves to be called Mclovin because that name is badass. Mclovin gets a fake ID, he gets punched out in a robbery, and he ends up getting to hang out with a couple of trouble-making cops who are brilliantly play by Bill Hader and Seth Rogen. I'm telling you, those two cops deserve their own movie. I would go out of my way to see it just to watch Hader and Rogen be the way they are in Superbad. One person I know says that the cops are the only funny parts of the movie that are funny. I disagree; the entire movie is funny. There's one part in particular that actually had me laughing so hard that I was almost crying. I won't say much, but it takes place in a grocery store. That's all I'll say. Superbad is one of the funniest movies to be released in the past decade. I've heard a lot of people (teenage girls in particular) say that Mean Girls is the best high school movie ever made, but that's not the case. Not only is Mean Girls highly overrated, it doesn't even come close to Superbad. I can't say that I relate to the characters in the movie since I don't obsess with beer and partying, but it's still a hilarious movie that needs to be viewed at least once.
Tyler Robertson
Super Reviewer
Superbad Quotes
| | |
| --- | --- |
| Officer Slater: | Pussies on the pavement fellas, come on! |
| | |
| --- | --- |
| Fogell: | What's it like having guns? |
| Officer Michaels: | It is awesome, Mclovin, it's mind-boggling. I haven't had for long, only a few months, but it's like having two cocks. If one of your cocks could kill a man. |
| | |
| --- | --- |
| Seth: | I am truly jealous you got to suck on those tits when you were a baby. |
| Evan: | Yeah, well, at least you got to suck on your dad's dick. |