Superfly
(1972)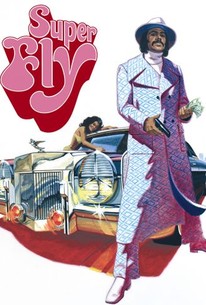 Movie Info
Perhaps this definitive blaxploitation film is the story a stylish Harlem drug pusher (Ron O'Neal) trying to score one last big deal before retiring from a life of crime. The film shows how O'Neal's character is the richest, most respected, and envied man in his neighborhood.
News & Interviews for Superfly
Critic Reviews for Superfly
Audience Reviews for Superfly
½
Superfly is one of those movies where the soundtrack is better than the actual film, but in this case not by much. (To be fair, Curtis Mayfield's soundtrack is one of the best ever.) Superfly is gritty and one of the high points of the blaxploitation movement from the 70s. Its more fun than it is good but that sure doesn't make it a bad movie.
Michael Gildea
Super Reviewer
½
If I were reviewing just the soundtrack, I'd give it 5 stars easy. Now,since I'm having to review the film as well, things are different. And no, the bulk of the rating isn't just for the music. This movie has some good merits on its own. The cars and clothes are awesome. The gritty NYC locationwork is great adding a nice touch of realism and relatability, the acting is mostly decent (for what it is), and the same goes for the dialogue. I'm generally very kind to every type of movie I watch, I always try to focus on the positives and be asforgiving andunderstanding as I can with the short comings. For some of those short comings, if they don't impact the overall effect, they aren't a big deal and can be overlooked. This is one of the most well known, better made, and influential Blaxploitation. Even though it does have its fairshare of critical and scholarly haters, this film is pretty competently made, and does have some good subtext and deeper stuff going on. For that, I give it more props than I already do. Take some ofthat away, and the movie is still pretty entertaining, even if more shallow. While some of the film's content is responsible for some of the stereotyping that comes along with these films, it's played pretty straight and serious. Oh, there's humor, but it's intentional (most of it- some of the dialogue and racial slurs had me laughing when I probably shouldn't have found it that funny). As far assome of the backlash is concerned- this isn't nearly as violent asI thought it would be, or as it could have been. I will admit that it does glamorize drugs and the drug culture, (something the soundtrack does not do), but it doesn't really get too overboard with it. Honestly, I think this film is entertaining whether you watch it for what it is, or, like me, you want (and have to) read into it. (I'm writing a Master's seminar paper on Blaxploitation).
Chris Weber
Super Reviewer
½
As far as i'm concerned the street drug cocaine, refined but corrosive WHITE powder, (It is the hydrochloric acid used to make this powder that destroys the nose) is a superb metaphor for the white oppression that the character's in Super Fly are caught up in. The real pusherman in the film is white, and far more dangerous than any drug. Witness the scene when Scatter is killed with an overdose. A powerful message that seems to have been lost on most of the folks reviewing this film. The black characters in Super Fly are all victims, trying to make the best of what they have, and there is another, just as powerful message, about the emptiness of the white American dream. Priest may want out of the drugs business, not because he hates drugs, but because of the endless hassle that comes with selling anything illegal. When pressed by his lover as to what he intends to do once out of the life, he has no real answer to give. There is no answer. What is there to the modern world other than conformity and brain death. I suspect that a character as intelligent as Priest knows this all too well. Yet such is the addiction of The American Dream, Priest even utters the words "FREE TO THINK", and the audience is left with a feeling of ambiguity. What really happens when you get what you want, it becomes worthless / meaningless more evidence of the humanity present in this film and the position the characters occupy. The characters in this film are not one dimensional, they have great depth and like all real humans, are flawed, that is what gives the human race it's humanity and it is this humanity which is under threat. Witness the scene when Priest is approached by a group of activist's, who see him as a threat to themselves and their future, a future which is little more than the chance to get along with ones oppressors. Priest tells them that if they come back with an armed black America he will be only too happy to join them. Though they are misguided as a nation under oppression is the same no matter what colour skin your oppressor has. Priest knows this and so do the activist's. Another masterstroke of this film is to cast an actor who is neither black or white, but of mixed race, thus allowing any reasonable audience, to identify with the character. Which also makes him something of an outsider, straddling the world of blacks and whites a world we all know to be made of grey. Just as the ending is grey, Priest may have escaped his immediate oppressor, but his future is unclear. The final image of the film is one of the greatest of any film ever. The camera rests on the peek of a skyscraper, which looks all to like a junkie's needle topped syringe, a symbol of the addiction that is capitalism and the threat that capitalism holds over the entire planet. This film has so much to say about modern life, our struggle for personal identity, the pursuit of happiness and the endlessly shrinking line between freedom and enslavement that i could easily fill a book on it. At a time when on-screen human beings are being reduced to the level of silicone. Super fly is a breath of sanity in a world rapidly loosing it's mind, to the evil of control. The 1970's seem to me to be the most honest period of film making the screen has ever seen. It would be impossible to make such a film today.
Cassandra Maples
Super Reviewer