Superman and the Mole Men
(1951)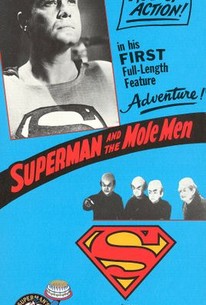 AUDIENCE SCORE
Critic Consensus: No consensus yet.
Superman and the Mole Men Photos
Movie Info
This adventure was the pilot for the original Adventures of Superman television series. The film follows Clark Kent and Lois Lane as they travel to a small town to write a story on the world's deepest oil well. When they stumble across the titular creatures, Superman must save the day.
Critic Reviews for Superman and the Mole Men
All Critics (3) | Fresh (0) | Rotten (3)
It contains some interesting ideas, but is really only going to appeal to massive fans of Superman or those seeking a sense of nostalgia.
Directed with a certain crudity but retaining an innocence that worked out nicely.
Even at under an hour, this children's fantasy is sluggishly paced by today's standards...but it does have its charms and a relevant social message at its core.
July 11, 2006 | Rating: 2.5/4
Audience Reviews for Superman and the Mole Men
When the world's deepest oil well unleashes a race of peaceful Mole Men, Superman must save the creatures from angry locals who see them as a threat. After the two serials this was the first regular feature film to showcase the Man of Steel. It was actually a theatrically released pilot for what would become the successful TV series "The Adventures of Superman" and would later be aired as a two-parter on the small screen. This certainly feels more like a TV episode than a movie, with a lack of action throughout. Superman only takes flight once and, just as with the serials, this sequence is animated. A dull chase scene is drawn out to bum numbing lengths, presumably just to fill the running time for a theatrical release. As Clark Kent and Lois Lane, Reeves and Coates are a much blander pairing than Kirk Alyn and Noel Neill, the charismatic stars of the earlier serials. Reeves is more believable when playing Superman but as Kent he's not very convincing, looking just like a jock wearing glasses. He lacks the bumbling charm that Alyn had in spades. The story goes that Alyn demanded too much money and so the role was given to Reeves. Coates makes for a rather abrasive and unlikable Lois Lane. She would actually go on to be replaced by the more energetic Neill in the second season of the TV show. The Mole Men themselves are just a couple of little people wearing cheesy bald caps. They don't speak and spend most of the movie being hunted by redneck stereotypes. Compared to the serial this has a much darker turn with Superman and the Mole Men actually being shot at and a generally violent atmosphere throughout. It all ends with our hero giving a lecture on tolerance for those who appear different to us. Tolerance is always a good attribute to possess, especially if you plan on making it through this turkey.
The Movie Waffler
Super Reviewer
Superman and the Mole Men Quotes
There are no approved quotes yet for this movie.