Superman: Brainiac Attacks
(2006)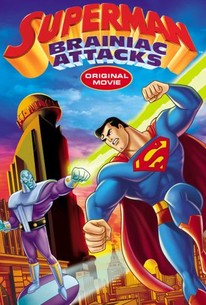 AUDIENCE SCORE
Critic Consensus: No consensus yet.
Movie Info
As the Man of Steel prepares to reveal himself to the world and declare his longstanding love for "Daily Planet" reporter Lois Lane, an old nemesis teams with a foe of unlimited power to wreak havoc over Metropolis in this animated adventure that pits Superman against a villain the likes of which the world has never seen. A powerful computer with a special strain of kryptonite infused to his body and a hunger for world domination, Brainiac forges an unholy alliance with the dreaded Lex Luthor that aims to bring the world's most famous superhero to his knees. When a force beam originally intended to take out Superman instead blasts Lane, the race is on for the desperate hero to enter the dreaded Phantom Zone and find the cure that will restore her health. The nefarious partnership between Luthor and Brainiac takes a turn for the worse, however, when, believing The Man of Steel to have buckled under the pressure of his powerful blast, Brainiac betrays his one-time partner to strike terror into the very heart of Metropolis.
Critic Reviews for Superman: Brainiac Attacks
Audience Reviews for Superman: Brainiac Attacks
½
Two Enemies Unite To Destroy The Man Of Steel Not terrible but not that great either. This animated needed more substance and a better develop story. It's not completely bad but there's better animated Superman movies out there. Embittered by Superman's heroic successes and soaring popularity, Lex Luthor forms a dangerous alliance with the powerful computer/villain Brainiac. Using advanced weaponry and a special strain of Kryptonite harvested from the far reaches of outer space, Luthor specifically redesigns Brainiac to defeat the Man of Steel.
A pretty sad attempt at continuing the animated series. Unlike the Batman animated movies, this has almost no production value and looks worse than the actual show did. The plot was way too basic and a rehash of one of the episodes from the series.
Conner Rainwater
Super Reviewer
½
this was a decent flick. superman was good as always and i loved the incorperation of the phantom zone, but lex luthor wasnt done very well. they drew him like the old animated series but he had a new voice and they made him a little more wacky and groveling, which was a bad thing in my mind. overall worth a watch.
Superman: Brainiac Attacks Quotes
There are no approved quotes yet for this movie.