Superman II
(1981)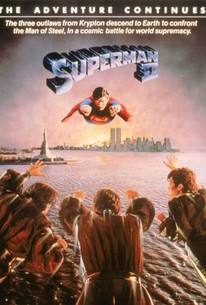 TOMATOMETER
AUDIENCE SCORE
Critic Consensus: The humor occasionally stumbles into slapstick territory, and the special effects are dated, but Superman II meets, if not exceeds, the standard set by its predecessor.
Movie Info
Between giving up his super powers, confronting criminals from outer space, and having problems with his girlfriend, it's a bad time to be the Man of Steel in this sequel to the 1978 blockbuster. When terrorists threaten to destroy Paris with a thermonuclear device as they hold reporter Lois Lane (Margot Kidder) hostage, Superman (Christopher Reeve) comes to the rescue and flings the weapon into space. However, its blast outside the earth's orbit awakens Zod (Terence Stamp), Ursa (Sarah Douglas), and Non (Jack O'Halloran), three villains from Superman's home planet of Krypton who were exiled to outer space for their crimes. Zod and his partners arrive on Earth and use their powers in a bid to take over the U.S., and then the world. However, when Lois realizes that mild mannered Clark Kent and Superman are actually the same person, he brings her to his Fortress of Solitude, where his decision to marry Lois costs him his remarkable strength. Without his super powers, how can Superman vanquish Zod and save the world? Gene Hackman, Ned Beatty, Susannah York, and Jackie Cooper return from the first film, which was shot at the same time as parts of the sequel.
Critic Reviews for Superman II
Audience Reviews for Superman II
With the money rolling in from the first one, this one follows the recognised sequel formula faithfully in that there's more of everything that was in the first, and perhaps even too much more, the film being so self-consciously aware that it's nearly to the point of parody. It's still a big Superman movie...only with wild red hair and a big round nose.
Kevin M. Williams
Super Reviewer
½
It may not set an new standards in this series, especially because it's almost impossible to live up to the amazement that the original film brought to the table, but "Superman 2" exceeds in many more ways than one, embracing it's cheese and creating awesome action scenes, even if the extras become a bit distracting and the effects laughable. The effects are definitely dated, but the story is stronger than ever. As seen at the beginning of the first film, Zod and his sidekicks have been locked up in the phantom zone, only awaiting their accidental release in this film, making them the main focus as Kal-El/Superman faces real-life issues. I loved everything about this film, but it is just hard to praise it as much as the first, because I wanted to see just a little more of everything. Still, it's a fantastic superhero film that I can watch over and over again!
**** "Superman 2" is one off those sequels that does a lot of the same as the first one, but changes it up enough to actually be better. Here, everyone is back, only the villain is General Zod(Terrance Stamp) along with his 2 sidekicks, who have escaped their exile, and come to Earth to rule. Once here, they meet with Lex Luther(Gene Hackman) and learn that Jor-El's son, Superman(Christopher Reeve) is living on Earth. It then becomes their mission to destroy Superman and make him kneel, while ruling the world. There is a lot more action in this one that the first(and the 3 and 4th), and although the ending is one big rehash, it's very entertaining and keeps at a good pace. The version I watched is the Richard Donner cut released from 2006. I don't remember much from the original theatrical version, so I'd have to rewatch it sometime before I can say what's different, but this version works fine. Reeve was an awesome Superman, and just as awesome as he was, Stamp was amazing as Zod. For a guy dressed like a dominatrix, he was a perfect villain. The film runs a little long, and obviously looks dated, but it holds up better than the other 2 sequels by far. Actually, I would say this is the best of the Reeve's Superman movies. If your gonna revisit any of them before the new one, this is the one to check out. If anything, to compare the Zod performances.
Everett Johnson
Super Reviewer
Superman II Quotes
| | |
| --- | --- |
| Gen. Zod: | Why do you say this to me, when you know that I will kill you for it? |
| | |
| --- | --- |
| Gen. Zod: | [as somebody pulls a gun on him] These humans are beginning to bore me. |
| | |
| --- | --- |
| Gen. Zod: | I win. I always win. Is there no one on this planet to even challenge me? |
| | |
| --- | --- |
| Clark Kent/Superman: | Good afternoon, Mr. President. Sorry I've been away so long...I won't let you down again. |