Superman III
(1983)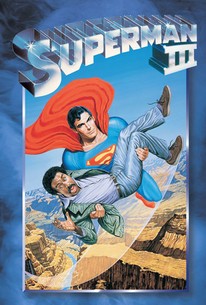 TOMATOMETER
AUDIENCE SCORE
Critic Consensus: When not overusing sight gags, slapstick, and Richard Pryor, Superman III resorts to plot points rehashed from the previous Superman flicks.
Movie Info
The Man of Steel (Christopher Reeve) takes on a megalomaniacal businessman (Robert Vaughn) who is using a dopey hacker (Richard Pryor) to help him take on the world in this third entry in the big-budget, special effects-laden series. This one places more emphasis on humor than adventure.
News & Interviews for Superman III
Critic Reviews for Superman III
Audience Reviews for Superman III
½
Although the cast is certainly game the entire effort comes off like a corny comic book parody (and not in a good way!) of a Superman story and is a total waste in the final analysis and best forgotten.
Kevin M. Williams
Super Reviewer
½
Richard Donner steps out and in comes Richard Lester (A Hard Day's Night), who proceeds to strip the franchise away of any dignity it once had. Donner's close-to-the-chest serious tone is abandoned in favor a cheesy campy one, accompanied by lame sight gags and un-funny slapstick. Having Richard Pryor's scenes (who is playing a PG-version of himself) consist of half the film's runtime is just too much because most of the time he just bumbles like an idiot. Rarely has a comedic genius been so utterly misrepresented. Due to working with a lower budget, the story comes off as a Superman TV episode rather than an epic story like the previous two Donner flicks. The subplot with Clark and Lana Lang could have been interesting but it is rushed and brushed to the wayside to set-up a future Superman love-triangle between Lois and Lana (which is never followed-up upon). The villains are lame (especially there computer scheme that's laughable even for the time) but there is a morbid enjoyment to be had watching Reeve play a corrupted Man of Steel, which he perfectly nails. The 'Army of Darkness'-style fight between Good Supes and Evil Supes yields some impressive special effects. Despite a few decent moments trickled throughout, they are all crushed under a crappy and tedious narrative that feels confused about whether it is catering to kids or adults. Donner one time made audiences believe a man CAN fly. With 'Superman III', Lester proved to audiences that a man can also fall from grace.
Christopher Heim
Super Reviewer
Dumber, with a less-interesting story and a stupid villain, "Superman 3" is definitely not the return that fans were hoping for. It kind of breaks the back of the series in a way, especially during the first act, where the fact of it being a Superman film is thrown out the window. This time, the film focusses on Richard Pryor's character who is an accountant, stealing money from his firm, but when he get's involved with an evil genius, his plans turn completely around, as he is faced to confront and destroy Superman with them. The most interesting portion of the film is when Superman must face his alternate self, because it is really the soul of the film and the turn-around point which makes the film watchable. I did not hate this film, it does have it's fun moments, but it's just not a good movie. The direction is sloppy, which is odd, because Lester's directing for the second was so great, and the writing here is much more bland. I expected much more from the third film in a series, but oh well, it'll be hard to top the first two anyways. I definitely do not recommend this one!