Superman
(1978)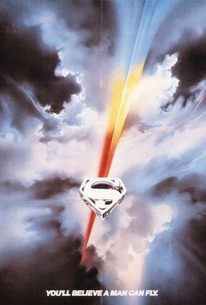 TOMATOMETER
AUDIENCE SCORE
Critic Consensus: Superman deftly blends humor and gravitas, taking advantage of the perfectly cast Christopher Reeve to craft a loving, nostalgic tribute to an American pop culture icon.
Movie Info
Christopher Reeve as the Man of Steel in a big-budget epic with Oscar-winning effects. Marlon Brando, Margot Kidder, Gene Hackman, Ned Beatty, Valerie Perrine, Jackie Cooper, Susannah York, Glenn Ford. Richard Donner directed.
News & Interviews for Superman
Critic Reviews for Superman
Audience Reviews for Superman
½
It's 2016 now and the world is full of superhero movies. Why there's practically a new one every other month or so. So what is it about this clunker from 1978, this grandfather, that makes it so special? It's that woven into the thing is a peculiar sense of wonder, the same wonder that made childhood childhood. And Richard Donner dollops the stuff all over the place. That wonder is of course underlined by the awshucks boy scout performance of Christopher Reeves. Perhaps still the best of all the superhero's films.
Kevin M. Williams
Super Reviewer
Superman is one of the greatest superhero films I have ever seen. Filled with superb dialogue and a heart wrenching story that triumphs over any hero film out there, Superman delivers on everything possible in cinema, during it's time. The build-up of Clark Kent in act 1 of the film is incredible, telling the backstory of his life on the farm, which is something that is missing from many superhero films nowadays. The villains are not overly charismatic which I loved, because it focusses on him having powers and having people, rather than having to deal with a bad guy 24/7, which is what modern day superhero films always do. The screenplay is terrific for what it is, the acting is very good, and the direction and camerawork is great! I love everything about this film, and although the effects are now somewhat dated, I find it easy to ignore, because the story is so powerful! "Superman (1978)" is a masterpiece of a superhero film!
I've honestly never been a big "Superman" fan. But with "Man of Steel" set to come out next week, I figured I would break open a "Superman" blu ray box set I have and rewatch all of the movies(even though I don't remember seeing any of them except the last one). The version I watched of the original was the extended cut, so I'm not really sure what the differences are with the theatrical version, but it does feel really long at over 2 and a half hours. Also, this was made in 1978, so it's pretty dated, but not unwatchable dated. The effects don't hold up, but the story is great. It's an origin story, turned into Superman trying to stop Lex Luthor from destroying the entire west coast. The cast of this movie is absolutely amazing for the time it was released. Marlon Brando, Gene Hackman, Ned Beatty, Margot Kidder, and of course Christopher Reeve. Reeve really was an amazing Superman, and his performance holds up better than anything else in this movie. Also, a small piece of trivia that I didn't know. But this was written by Mario Puzo, aka the man who wrote "The Godfather" trilogy. When compared to modern day comic book movies, this obviously comes up short. But, when you consider the time it was made, and how well it's aged, it's still very good. Also, for how old the movie is, the transfer on Blu Ray is pretty darn good. Great way to get prepared for the new movie, and perfect to introduce kids to "Superman" who haven't seen any of the movies.
Everett Johnson
Super Reviewer
Superman Quotes
| | |
| --- | --- |
| Jor-El: | Your name is Kal-El. You are the only survivor of the planet Krypton. Even though you've been raised as a human, you are not one of them. You have great powers, only some of which you have as yet discovered. |
| | |
| --- | --- |
| Jor-El: | They're a good people, Kal-El. They need only to be shown the way. |
| | |
| --- | --- |
| Clark Kent/Superman: | Actually she's silver haired.... |
| | |
| --- | --- |
| Lois Lane: | Thats Clark nice.... |