Superman Unbound
(2013)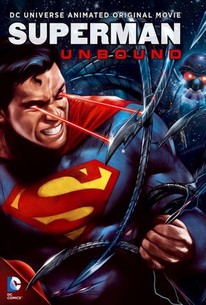 Movie Info
An unstoppable android on the horizon. A mysterious fireball hurtling toward Earth. A fearless - and beautiful - reporter who will stop at nothing to get her story. It's just another day for the heroic Man of Steel... only this time, for better or for worse, he has his unpredictable cousin, Supergirl, by his side. The gritty adventure begins as Superman learns about the ruthless force known as Brainiac, who has seized and miniaturized Krypton's capital city of Kandor.
Critic Reviews for Superman Unbound
Audience Reviews for Superman Unbound
½
Easily the best animated Superman movie to date, It had a good story that is easy to follow and it has some good action scenes too, A little more humour helped too, It was nice to see Brainiac being used well this time as a good main villain is what makes the film, Let's hope any future Superman animated movies can be just as good.
Jamie Clarke
Super Reviewer
Feels like a cheap, almost overly convoluted excuse to watch Superman fly around punching drones and Brainiac in the face. The emotional aspect of SG's subplot is rather contrive as well, never really hitting a true heartfelt moment and almost comes off as a separate movie altogether in wake of Brainiac's threat. If you want to watch Supes punch things hard and explosions, sure, watch it. Frankly I see no merits in the movie other than a sub-par animated action-fest with a "War of the Worlds" cop-out ending.
Drake Tsui
Super Reviewer
½
Exciting and action-packed, Superman Unbound is an impressive animated feature from DC Universe. Based on the comic book series Superman: Brainiac, when Superman discovers one of Brainiacs drones in a meteor he leaves Supergirl to service in his stead while he hunts down the source of the drone and attempts to stop Brainiac from coming to Earth. The voice cast is rather good, and includes Matt Bomer, Stana Katic, and Molly Quinn. The writing is also well-done, and creates an interesting and compelling story. Additionally, the animation style is rich and full of color, which enhances the fantasy aspects of the film. Superman Unbound is a well-crafted and entertaining film that's full of adventure.
Dann Michalski
Super Reviewer
Superman Unbound Quotes
There are no approved quotes yet for this movie.