Superman vs. The Elite
(2012)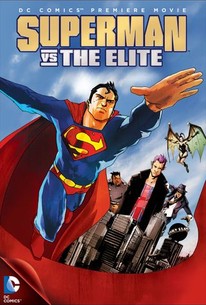 Superman vs. The Elite Photos
Movie Info
A group of so-called superheroes have been supposedly fighting for good, but leaving their enemies dead. This spurs Superman to stamp out their antics, leading to a battle on the surface of one of Jupiter's moons.
Cast

Critic Reviews for Superman vs. The Elite
Audience Reviews for Superman vs. The Elite
½
It's unfortunate that the art style doesn't fit appropriately with the sophistication of the story because in all honesty, this movie embodies what it is to be "Superman" better than any other animated film featuring the character. The theme of idealism against the harshness of reality, of overcoming the means to an end with the unwavering hope in principle and morality. This movie's plot defines Clark's character and that's where it really shines. Unfortunately, there's just something unappealing and generally comical in the presentation of "The Elite" (design & voice acting), this combined with the juvenile art style takes away from the dark themes and ideas presented. Of course, the fight scenes and animation is still quite stellar. The explosive battles are all very fluid and full of dynamism. I think in the wake of Batman's popularity and that of vigilantes or dark heroes alike, this movie plays a pivotal role in reminding us that it's just as important to dream and strive for ideals.
Drake Tsui
Super Reviewer
Superman vs. The Elite is a pretty good little dc animation. It isn't the best we've seen from them, but it definitely isn't the worst. I really liked the characters that made up the Elite, and the story was interesting and engaging. That's normally how I judge these type of movies. If they keep my attention the whole time, they're normally pretty good. The bad ones always lose me about half way through. This is worth a look if you're into Superman or superhero movies in general. There's some nice social commentary going on and also some great, dark themes at play as well. This likely won't be your favorite Superman animation, but it should be enough to merit a watch.
Melvin White
Super Reviewer
so far this is the best animated superman story, but the story's look like Marvel.
UUd Irawan Yudha Ariyanto
Super Reviewer
Superman vs. The Elite Quotes
| | |
| --- | --- |
| Superman/Clark Kent: | Dreams save us. Dreams lift us up and transform us into something better. And on my soul, I swear that until my dream of a world where dignity, honor and justice are the reality we all share, I'll never stop fighting. Ever! |