2012: Supernova
(2009)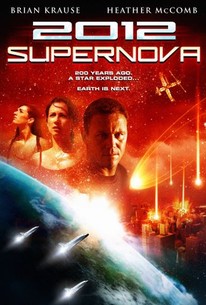 AUDIENCE SCORE
Critic Consensus: No consensus yet.
Movie Info
In a galaxy not too far from our own, a star has exploded, and the resulting blast of radiation is hurtling towards Earth. Now it's up to one daring astrophysicist to create a shield that will protect the planet from imminent destruction.
Critic Reviews for 2012: Supernova
All Critics (1) | Fresh (0) | Rotten (1)
There are some decent action sequences, which break up the goofy dialogue. It's not a great story, but it can be a fun distraction at times.
Audience Reviews for 2012: Supernova
3rd entry in our "The Asylum" marathon (5th Asylum movie I've seen) and this is definitely one to skip. The only reason anyone would want to watch anything by these guys, who are notorious for making rip offs or "mockbusters" of popular movies (such as in this case: 2012), would be to laugh at how fantastically horrible the quality of the movie is. And with most of their films, that is the case, but not as much here; the comedy is to seldom for it to be worth the whole ride. The story is beyond bland and breathes generic apocalypse/sci-fi/save the world mumbo jumbo. Basically a far away star explodes and a group of several scientists have about a day to send a rocket full of nukes into outer space to keep the radiation from the supernova from destroying Earth. Now what does this have to do with 2012? Absolutely nothing! In the beginning of the movie, it even says that it takes place in present day, which directly contradicts the title. It's small details like these that you have to pick up on with these movies. It just makes them all the more pathetic. The characters are the most gut wrenching aspect. Are they good, are they bad, are they funny, are they sexy, are they badass, are they evil... these questions toss wildly across your mind as the plot ever so slowly unfolds until you realize that "Oh the main character is a dude who wants to save the planet, his love interest is hot but has no brains, the bad guy is a racist stereotype, and it all ends happily: JUST LIKE EVERY OTHER ASYLUM MOVIE!". As a piece of advice from another review on this movie, my friend and I made a drinking game (don't worry it was Iced Tea) by drinking a glass every time we saw the black guy. Now, the acting is just plain awkward and stupid, except for this one black guy who works with the scientists. I don't know his name, but he's an Asylum regular (The Day The Earth Stopped). We loved him in his other role, and in this one he shines. Not as much because he's at all talented, but because of his INTIMIDATING GLARE. Whenever he tries showing emotion, his eyes open very wide and he looks like he's going to FUCK SOMEBODY UP. The Asylum seems to be against having any any non-white Americans, except for this guy, which makes him something special and something to cherish. The script is definitely a target for all out bashing. But for the sake of leaving this movie some unsevered limbs, I won't. Instead, I'll give you an example of what there wittiest quote is: (American): Where are you from? (Chinese): I am from the People's Republic of China. (Russian): I am from the People's Republic of Vodka. But I digress from the movie itself and onto its watchability. The special effects; horrid. The editing; repetitive. The cinematography; dark and claustrophobic. The movie spontaneously throws a bunch of unlikable characters at you with no introduction and, with a speedy pace, sucks you into what is an impeccably generic disaster story. It's not necessarily painful to watch, it just shouldn't be watched. 2012: Supernova has some entertaining moments, both intentional and unintentional, but it's so by the book and so uneven that by the end you are anything but satisfied. 08/100
Simeon Deutsch
Super Reviewer
2012: Supernova Quotes
There are no approved quotes yet for this movie.