Supremacy
(2015)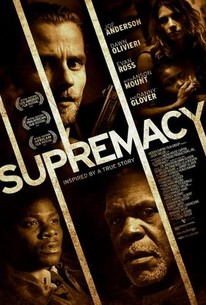 Movie Info
Tully (Joe Anderson, A SINGLE SHOT, HERCULES) just got paroled. But his first night out could be his last. He just killed a cop. He's on the run. And no one's going to listen to an ex-con with the Aryan Nation. His leader (Anson Mount) just cut him loose, and as the police close in, Tully and his girlfriend (Dawn Olivieri) add home invasion and hostages to the body count. But no one counted on Mr. Walker (Danny Glover), an ex-con himself, to fight back - using his understanding of the racist mind to turn the tables on a desperate and violent man. Will it be enough to keep his family alive?(C) Well Go
Critic Reviews for Supremacy
Audience Reviews for Supremacy
Joe Anderson is a talented, handsome actor but he can't save this muddled thriller devoid of insight and plagued with ridiculous dialogue, and even the use of flashbacks along the movie is amateurish in the way that it tries - and fails - to gradually shape the character's motivations.
Carlos Magalhães
Super Reviewer
Some stories are so far fetched, that they couldn't possibly be anything but a true story. Supremacy is one of those films that is ripped from the headlines, telling the incredible true story of Garrett Tully, a white supremacist who was out of jail for less than twenty-four hours. Tully (Joe Anderson) was released on parole, after spending most of his life behind bars. He was on his way back to the white supremacist strong hold he called home, when he and his girlfriend are stopped by a policeman, a black policeman. It doesn't take long for Tully to jump out of the car and kill the officer, before going on the run. The pair makes their way to a suburban area, where they break into a house and take a black family hostage. Aside from the obvious tension of a hostage situation, there is also extreme racial tension, that makes the whole situation that much harder for the people involved. As events play out, something miraculous starts to occur as Tully, starts to sympathize with his hostages. Danny Glover stars as The homeowner, Mr. Walker, and was beyond phenomenal. Glover excels in films that involve race, because he has this quiet simple way about getting his message across. He's never over the top or in your face about it, he's just a simple man who states the truth, something most people easily relate to. Aside from Glover's performance and the obvious question about what's going to happen, this film was a dud. There is a lot of waiting around, racial slurs, and arguing before we get any answers we seek. Supremacy is basically a film you start to watch, and would like to turn off, but you can't until you find out what happens. My advice, Danny Glover has plenty of other similar significant roles under his belt, and you'd save a lot of time and frustration by simply googling Garrett Tully.
Todd Smith
Super Reviewer
Supremacy Quotes
There are no approved quotes yet for this movie.