The Sure Thing
(1985)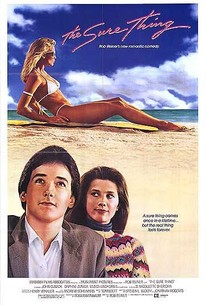 TOMATOMETER
AUDIENCE SCORE
Critic Consensus: Though its final outcome is predictable, The Sure Thing is a charming, smartly written, and mature teen comedy featuring a breakout role for John Cusack.
Movie Info
Director Rob Reiner's The Sure Thing is essentially It Happened One Night for the 1980s, but its lack of surprise in no way impedes its entertainment value. John Cusack plays Walter "Gib" Gibson, a self-involved college freshman who makes plans to head to California, there to touch base (and a few other things) with a "sure thing" played by Nicollette Sheridan. Likewise planning a westward journey is coed Alison Bradbury (Daphne Zuniga), a control freak who has a wealthy, stuffy fiancé over there. Gib and Alison despise one another on sight -- so naturally, they are compelled to travel to California together. The fact that everyone in the audience knows precisely how this one will end up is inconsequential; Cusack and Zuniga deliver such engaging performances that we're pulling for them to wise up and discover one another from the very first scene. One of the best bits: the mismatched couple being bombarded with an ear-piercing rendition of "The Age of Aquarius" by their dippy traveling companions. ~ Hal Erickson, Rovi
Critic Reviews for The Sure Thing
Audience Reviews for The Sure Thing
½
John Cusack and Daphne Zuniga play university students who take a whole movie to realize they are meant for each other. The movie-going public are aware of it from the moment we see them, but these two think they despise each other. A fun 90 minutes!
Another film that shows you that 1985 was the best year of the 80s. This movie shows you how John Cusacks character, Gib grows up, and decides that why hook up with a sure thing when the real thing was there all along. This movie is an 80s classic! I would also recommend this movie to people who want to laugh as well. :) It's a classic movie! :) I love it :) :) :) :) :) :)
Cassie Hill
Super Reviewer
½
Mamma mia John Cusack was so hot in this movie! The dialogue was really snappy and I like how the ending was resolved only at the very, very last minute - screwballian, in a way. Rob Reiner was definitely in his prime in the 80s.
Jennifer Xu
Super Reviewer
The Sure Thing Quotes
There are no approved quotes yet for this movie.