Surf Nazis Must Die
(1987)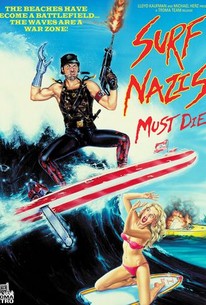 Surf Nazis Must Die Photos
Movie Info
Considered by aficionados to be one of Troma Studios' (they specialize in low-budget and deliciously tasteless exploitation fare) best outings, the campy and very weird actioner is set in southern California after the Big One has created a brand new coastline. In the resulting ruin, a cult of crazy neo-Nazi surfers have commandeered the beaches until a brave hero and his portly girlfriend show up to get violent revenge. The film features considerable nudity, violence and sex.
Critic Reviews for Surf Nazis Must Die
All Critics (5) | Fresh (1) | Rotten (4) | DVD (1)
This one slipped by me!
October 3, 2003 | Rating: 0/5
Great title, shame about the movie.
January 9, 2003 | Rating: 0/5
Intentional awfulness is still awful. Lacks the tacky charm of Troma's "best" films.
December 4, 2002 | Rating: 1/5
Audience Reviews for Surf Nazis Must Die
½
"Surfers rule the waves, and Nazis rule the surfers" Surf Nazis must die, it sounds just like a cheap 80s trash movie, and it's all of the above. While the movie was fun coming in, it actually seemed like it was pursuing out from its title. It was more talk than actual action, which is really different then what the title implies. Gail Neely was absolutely dreadful in her perofmance, while the rest of the cast was actually reasonably good. As the titl may imply, stay away from it.
Daniel Dolgin
Super Reviewer
½
Not the worst Jane Austen adaptation Ive seen.
Marcus Woolcott
Super Reviewer
½
For those of you that have been living in caves, and haven't seen this, this is a Troma "pick up" from 1987 that is a wonder to behold. To be truthful, it's fairly well done for what it is, which is "beachploitation trash". LA has been hit by "The Big One", 8.6, and it's pretty much anything goes, at least at the beach. Surf Nazis rule the beach, the waves, and whatever else their demented little minds tell them. Now, when a black man is killed by the Surf Nazis his mom, who is by no means ready for the rest home in which she's now living, decides to take matters into her own hands. There are also other rival surf "gangs" that don't take kindly to the claims of the SN's and attempt to fight back but with dire results. OK, sure, this is hokey and silly but it's also pretty fun, and I like the music & the beach scenes, in which it's all pretty deserted looking and lends some authenticity to the idea that there aren't many folks that actually survived this big quake, just a bunch of psychos fighting over surf supremacy. A classic 80's movie, fer shure.
Cassandra Maples
Super Reviewer
Surf Nazis Must Die Quotes
There are no approved quotes yet for this movie.