Surveillance
(2009)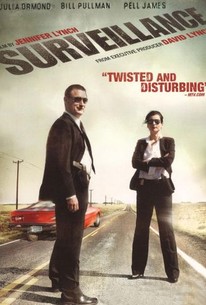 Movie Info
An FBI agent encounters three would-be victims of a serial killer, all of whom have very different stories of their experiences.
News & Interviews for Surveillance
Critic Reviews for Surveillance
Audience Reviews for Surveillance
Two FBI agents question witnesses of a brutal slaying. As this film began, I thought it was going to be a post-modern Rashomon -- the same story told from multiple perspectives with the post-modern conception that truth is mutable. David Lynch's daughter at the helm only furthered my suspicions. However, the characters' stories merely serve as diving boards for the director's objective reality, so the film has no post-modern twist or any original concept driving it forward. Lynch uses her father's scare tactics, slow shots of looming devilish figures straight out of a Carl Jung handbook for "scary," but these flourishes bore with over-use. Bill Pullman and Julia Ormond are stolid until the last act, during which they become cartoons. The antics of the police officers and most of the other characters are so outlandish that they defy credulity; even in a small, out-of-the-way town, there's no way these officers could have gotten this far shooting out random travelers' tires and sexually assaulting drivers. Overall, Lynch proves that she's her father's daughter, but she's without his ideas, which makes her a copycat, a poor excuse for the original.
Jim Hunter
Super Reviewer
½
Brilliant movie, starts off a bit weird but stick with it, it is well worth it.
Stuart Brooks
Super Reviewer
½
Jennifer Chambers Lynch (daughter of the great trancendental David Lynch) made her directorial debut in 1993 with "Boxing Helena". That film recieved some scathing reviews and if my memory serves it was an absolute turkey. However, this second shot at directing is a vast improvement. Hunting a vicious serial killer, FBI agents Hallaway (Bill Pullman) and Anderson (Julia Ormond) pitch up at a police station to question three survivors and the cops who saved them. But with the stories failing to match up, can anyone be trusted - and is anybody safe? You can tell that Jennifer Lynch's auteur filmmaker father has had a heavy influence on his daughter. She employs a similiar eerie atmosphere; similiar characters with odd, unexplained behaviour and similar small, remote american settings like "Twin Peaks", or "Wild at Heart". Although she's still a far cry from the genius or intelligence of her father, she can be proud of what she's crafted with this one. The performances are spot on from a cast that has obviously put their trust in their director and Lynch's visual style complements the cast. It's not without it's flaws however, and sometimes verges on implausibility but I really liked it. Certainly not for all tastes but it's very effective and disturbing feeling of dread lingers long after viewing it. The fact that it's set in a deserted rural American town adds to the lonliness and fear from the characters and the audience. In only her second film, it looks like Jennifer Lynch still has a bit to learn but with this unusual serial-killer thriller it looks like she may still have something to offer, despite living in her fathers shadow.
Mark Walker
Super Reviewer
Surveillance Quotes
There are no approved quotes yet for this movie.