Survival of the Dead
(2010)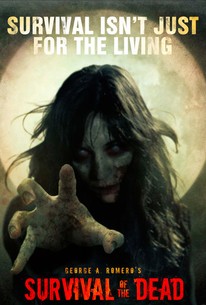 TOMATOMETER
AUDIENCE SCORE
Critic Consensus: Survival of the Dead offers glimmers of Romero's savage wit, but not nearly enough to make up for his unusually uninspired directing and a lack of new ideas
Survival of the Dead Photos
Movie Info
A group of rogue soldiers seek shelter from the zombie apocalypse on scenic Plum Island, only to become caught up in a bitter feud between two warring families. Sarge Crocket (Alan Van Sprang) and his motley crew of military abandoners are searching for a safe place to rest when they cross paths with Patrick O'Flynn (Kenneth Welsh). O'Flynn has been banished from Plum Island, where his family is locked in a longtime quarrel with the Muldoons. The O'Flynns see the flesh-eaters as subhuman, never hesitating to put a bullet between their eyes; the Muldoons balk at the prospect of killing their gut-munching loved ones, instead opting to care for their rotting kinfolk until scientists find a cure for the undead scourge. As the division between the two families grows deeper and wider, Crocket and his men realize that on Plum Island, the zombies are the least of their worries.
News & Interviews for Survival of the Dead
Critic Reviews for Survival of the Dead
Audience Reviews for Survival of the Dead
½
A squad of AWOL soldiers happens upon a remote island inhabited by two feuding clans with very different ideas of how to deal with the zombie holocaust. I'd love to say that the latest in George Romero's spiralling Dead franchise has finally stopped the rot, but I'd be lying. Survival Of The Dead's recipe of weak slapstick comedy and cartoon gore turns the once fearful zombies into something of a deeply un-intimidating joke and I wish that just ONCE, a Hollywood casting director could actually cast an actual Irish actor instead of just assuming that an American drawling "Oi'm frum Oireland t'be sure" is good enough. The uninspiring small screen cast are very difficult to care about and I would describe the amateurish feel of the whole thing as "TV standard" if The Walking Dead hadn't come along and proven how high "TV standard" has become over recent years. Instead of witty, insightful satire Romero has chosen to turn The Dead series into a cross between The Munsters and The Beverly Hill Billies and the addition of a half-baked message about nationalism at the very end just doesn't cut it. Easily the worst of the series and I'm sad to say that it's about time he called it a day because it's just getting a little embarrassing now.
Not my favourite zombie movie at all, in fact it was pretty terrible and even if your a huge zombie fan you may want to avoid this movie.
Film Crazy
Super Reviewer
Well, he did it. George A. Romero finally somehow managed to make a zombie movie that I can't bring myself to recommend. It's sad too. I mean, Land and Diary weren't as good as the original trilogy, but they were still pretty decent movies all things considered. Depending on certain factors (since I'm a little wary of change), I kinda like it when a band or director I like does something different. And that's the case here, where the film is basically The Hatfields and McCoys plus Zombies. Also different is that there's little if any real subtext here, unlike the previous films, and this is also the closest that the series has come to having a direct sequel since the main characters here plaed a small role in the previous entry. This film follows a group of mercenary national guardsmen (and lady) who robbed the protagonists of hte previous film. Here, they are deserters just looking to find a better place and situation. They make their way to an island off the coast of Delaware inhabited by two feuding Irish families who have differening views on how to deal with the zombies. This all could have been some very compelling stuff, but it never turns out to be that way. The film feels unfocused and incomplete. There are traces of substance, but no real hardsocial commentary, and what is there comes off as half formed. There's some humor here, whic his fine, but more than I fiured there'd be, and tonally, (and I hate using this comparison) this feels A LOT like Jason X. The humor also comes off as silly and doesn't work that well. Also, the acting is all over the place. So, with all of that, you might be wondering why I've not given it a lower score. Well, it's got violence and gore, and some rather interesting ways of killing zombies. A couple of the kills have some painfully bad cgi effects, which sucks, but still, they are at least creative. Also, I kinda liked the pseudo sequel idea. There's some okay ideas here, but it just feels like George has really run out of ideas and confirmed what many have known for a while now that he's pretty much just phoning it in. I did like that there's a random and pointless scene of the female soldier breifly masturbating though. Sigh. It's odd. This isn't that good of a film, but I was never really bored. That's especially odd since this film isn't always that interesting. Maybe it's just my love for the man and his past films. See this only if you're a completist, or if you feel you really have to. Otherwise, just pass.
Chris Weber
Super Reviewer
Survival of the Dead Quotes
There are no approved quotes yet for this movie.