Survive Style 5+
(2004)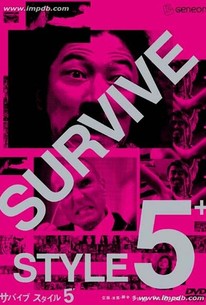 AUDIENCE SCORE
Critic Consensus: No consensus yet.
Movie Info
Director Gen Sekiguchi and screenwriter Taku Tada, phenomenally successful award winners in Japan's advertising industry, make their feature-film debut with the fast-paced omnibus film, Survive Style 5+, which incorporates five strange tales that occasionally intersect. The ubiquitous Tadanobu Asano introduces the film, playing a man who has apparently just murdered his lovely wife (Reika Hashimoto). He drives out to the woods, buries the body, and returns home to find her waiting for him, and not in a particularly good mood. In the second story, Yoko (Kyôko Koizumi), a driven copywriter who constantly spews ad ideas into her handy minicassette recorder, has just had quick, unfulfilling sex with Aoyama (Hiroshi Abe), a sleazy, conceited TV hypnotist who proceeds to insult her work and her personal hygiene. Yoko takes it well, but she's got plans for the jerk. In the third story, Kobayashi (Ittoku Kishibe), a good-natured salaryman, is hypnotized by Aoyama into believing he's a bird. His family has a whole new set of problems when Aoyama is incapacitated before he can break the trance. The fourth thread follows three dimwitted burglars (Yoshiyuki Morishita, Jai West, and Kanji Tsuda) as they grapple with both professional and sexual confusion. The final plotline concerns a hot-tempered English hitman (Vinnie Jones) and his goofy employer (Yoshiyoshi Arakawa), who also serves as his translator as the hitman asks nearly everyone he meets, "What is your function on this planet?" Sonny Chiba has a cameo as the hen-pecked president of a drug company. Survive Style 5+ was shown at Subway Cinema's New York Asian Film Festival in 2005. ~ Josh Ralske, Rovi
Critic Reviews for Survive Style 5+
There are no critic reviews yet for Survive Style 5+. Keep checking Rotten Tomatoes for updates!
Audience Reviews for Survive Style 5+
One of strangest, most profound, silly, touching, surreal, lovable, funny and oddly soothing films I've ever seen. It will be hard to knock this out of my top 10. Just submit to the power of the film and finish it in one sitting. You never know where it's going to go, just know you'll be glad when you do.
Ken Stachnik
Super Reviewer
I loved this movie, Its bizzare tone stylishness hilarious moments oh and its fantastic ending and it has an emotional undercurrent & some underlying concepts and after all What's Your Function In Life? ha ha
½
I guess a movie like SS5+ bases it's whole appeal on how unpredictable it can be, that is not a bad thing per se, but not only a film needs to have something more than just that, there certainly exist levels of creativiy in running a experiment like that. SS5+ attempts to be this all fun demential collection of gags, all trown in different directions, hoping something will stick. Some do: your average japanese salary man thinking he's a bird after being hipnotized, Tadanobu Asano killing, and eventually facing the resurrected body of his psycho wife again and again. But there are others that not only doesn't work, it feel like just half baked lazy ideas the director trow in, like a woman working on promotional ads that thinks she is brighter and funnier than she really is, or 3 goofy house robbers that have a "brokeback mountain" thing going on betwen two of them. I'm very much on favor of films that try to break conventional movie-making rules in favor in something unique, as long as they do know what they're doing. There are plenty of examples of films that have managed to succed in doing that (Seijun Suzuki's Branded to Kill, Takashi Miike's Gozu, Thai flick Tears of the Black Tiger) SS5+ might had sound great on paper, but on screen it feels way too missmatched to actually consider it a full film and not just a collection of one-trick-pony gags. Yeah, i know what you're thinking "how can a film with Vinnie Jones, Tadanobu Asano and Sonny Chiba fails to be rad and actually become very dull?" Believe me, i was asking the same thing to myself.
Tsubaki Sanjuro
Super Reviewer
Survive Style 5+ Quotes
There are no approved quotes yet for this movie.