Susan Slept Here
(1954)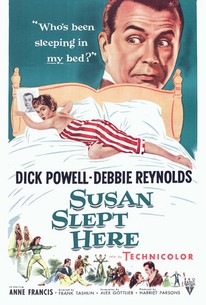 Movie Info
Susan Slept Here is the only feature film in Hollywood history ever to be narrated by an Academy Award. After introducing itself, the Oscar statuette invites us into the apartment home of its owner, screenwriter Mark Christopher Dick Powell. Knowing that Mark is working on a script about juvenile deliquency, policeman Sam Hanlon Herb Vigran deposits teenaged troublemaker Susan Landis Debbie Reynolds on Mark's doorstep. Somewhat terrified by Susan's erratic behavior, Mark vows to keep their relationship platonic, but his fiancee Isabella Anne Francis suspects the worst. Director Frank Tashlin aims his satiric barbs at psychiatry, conspicuous consumption and Hollywood itself. The spirited supporting cast includes Glenda Farrell, Alvy Moore, Horace McMahon and Les Tremayne.
Critic Reviews for Susan Slept Here
Audience Reviews for Susan Slept Here
Cotton candy confection with Debbie bright and chipper. Something from a much more innocent time with for that time a slightly risque story, although the fact that Debbie was actually 22 and looks it not the 17 the script indicates removing much of the ick factor. Skillfully played by all with Glenda Farrell very amusing in support and Anne Francis a knockout in an eyepoppingly elegant wardrobe.
Susan Slept Here Quotes
There are no approved quotes yet for this movie.