Sushi Girl
(2013)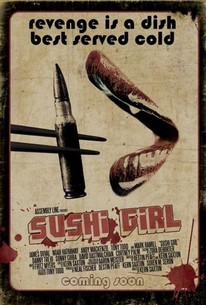 Movie Info
SUSHI GIRL centers on the compelling character of a man called "Fish," just released after six years in jail after successfully not ratting on those involved in the robbery that sent him to prison. The night he is released, the men he protected with silence celebrate his freedom with a congratulatory dinner. The meal is a lavish array of sushi, served off the naked body of a beautiful young woman. The sushi girl seems catatonic, trained to ignore everything in the room, even if things become dangerous. Sure enough, the unwieldy thieves can't help but open old wounds in an attempt to find their missing loot, with violent results. (c) Assembly Line
Critic Reviews for Sushi Girl
Audience Reviews for Sushi Girl
½
Sushi Girl is a dull, bland exercise in gangster genre filmmaking. The film never is anything interesting or entertaining, and it squanders its cast on such a poorly written script. I really enjoy low budget films, but this film just lacked a truly engaging plot. Some of the cast were interesting, especially the casting of actor Mark Hamill, who is quite good in his role. However the film does leave a lot to be desired and everything just seems t5o fall flat. There never is anything to salvage the script. This film could have been terrific, but it just ends up being a pointless mess that never grabs your attention. As it is, it's a film that really relies on clichés and it's void of anything to really make it a standout feature film. The cast seem bored, and aside from Hamill, who like I said, was good, and amusing, every actor delivers dull, unimpressive performances that don't stand out. In terms of a crime film, Sushi Girl is forgettable and poorly crafted. This is a forgettable film, one that should have been good, but never becomes anything special because of its lacking script. Don't go into this one expecting a great film, you'll be disappointed. In the end, this film is awful and pointless due to the fact that it's just an overblown cliché from start to finish. We've seen this type of film before, and it's been done better as well. This film had plenty of potential, but it doesn't live up to what it should have been, and it ends up being a waste of time. Don't expect anything from this film, you'll sadly be disappointed.
½
A compelling and twisted mix of story, dialogue, characters and brutality. It's the type of film that would make Quentin Tarantino proud. It's bloody awesome and keeps you hooked from start to finish. A stylish, dark and furiously entertaining crime-thriller. A smart, sadistic, intense, wickedly funny, pulse-pounding and exhilarating piece of work. Director, Kern Saxton crafts a interesting, fun and exceptionally constructed film. It packs plenty of bullets, torture, blood, and nail-biting twist and turns from start to finish. A guilty and twisted pleasure that shows these dark comments in their element and dose not let back on the cruelty and shows these characters for what they are. It delivers some solid and brilliant performances from as very talented cast of actors. Tony Todd gives a cool and furiously entertaining performance. Mark Hamill is excellent. Noah Hathaway is electric. Andy Mackenzie is hard-edged. James Duval is terrific.
Started off really well as a Quentin Tarantino homage, but then soon went down hill after the torture began. The acting started to crack fairly early on, the acting aside from Tony Todd was dreadful, especially James Duval who was absolutely disappointing. The twist was quite easy to guess really.
Sylvester Kuo
Super Reviewer
Sushi Girl Quotes
There are no approved quotes yet for this movie.