Suspect Zero
(2004)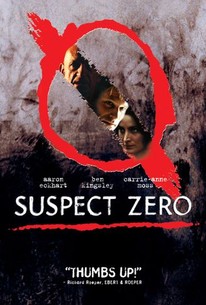 Movie Info
Directed by E. Elias Merhige, Suspect Zero follows the disgraced FBI Agent Thomas Mackelway (Aaron Eckhart), who was transferred to a desolate area in Albuquerque, New Mexico as punishment for botching a procedure which ultimately led to the release of one of the most notorious criminals on the FBI's list. Mackelway is given an opportunity to redeem himself, however, when he is called in to investigate the strange murder of a traveling salesman. Mysteriously, the mark of a circle with a line through it is the only clue that the killer left behind. Before long, the prime suspect is identified as former agent Benjamin O'Ryan (Ben Kingsley), who is seemingly obsessed with hunting down serial killers and murdering them rather than turning them in to the proper authorities. Though Mackelway believes he knows the area where O'Ryan (Kingsley) is living, he has no idea what he looks like -- a problem that the rogue agent exploits with great success. Despite his brilliance, Mackelway finds himself caught in a psychological labyrinth of sorts, and is faced with an even greater quandary after learning that O'Ryan is looking for none other than Suspect Zero, a murderer of hundreds and the FBI's most wanted man. The supporting cast includes Carrie-Anne Moss and Harry J. Lennix.
News & Interviews for Suspect Zero
Critic Reviews for Suspect Zero
Audience Reviews for Suspect Zero
½
Cast: Aaron Eckhart, Ben Kingsley, Carrie-Anne Moss, Harry Lennix, Kevin Chamberlin, Julian Reyes, Keith Campbell, Chloe Russell, Ellen Blake, William B. Johnson, Jerry Gardner, Daniel Patrick Moriarty Director: E. Elias Merhige Summary: A killer is on the loose, and FBI agent Thomas Mackelway is on the case, sifting through clues to uncover the criminal's identity. But there's one unusual twist: The bloodthirsty felon's victims of choice are other serial killers. My Thoughts: "Although it was a new take on serial killing and one I thought was very interesting, the film just wasn't great. Far from it. There is no thrill in this thriller and it needed it. The casting is great, its the writing and directing that leaves something to be wanted. The idea of the film is unique but unfortunately it wasn't executed as well as it could and should have been. A miss that could have been a hit."
♥˩ƳИИ ƜѲѲƉƧ♥
Super Reviewer
While Aaron Eckhart and Ben Kingsley bring great performances, it is not enough to overcome the sappy writing that includes the "I slept with my partner" sub plot that adds nothing to the story more than the cliche former lovers working together drama. Too much fiction in the science fiction part of this story does not help either.
Thomas Johnston
Super Reviewer
Suspected it to be good but got a real ZERO for that. Surely worth a miss!!!
familiar stranger
Super Reviewer
Suspect Zero Quotes
| | |
| --- | --- |
| Benjamin O'Ryan: | We were wired right into it. The five of us. Darkness, the pit itself, and no one ever taught us how to turn it off.We saw things men shouldn't see. |
| | |
| --- | --- |
| Icarus Trainer: | Stay objective. do not identify with the victim. |
| | |
| --- | --- |
| Benjamin O'Ryan: | Nobody's told me how to turn it off. And you're going to help me. Help me turn it off. |
| | |
| --- | --- |
| Thomas Mackelway: | How do you find something you can't see? |