Swann in Love
(1984)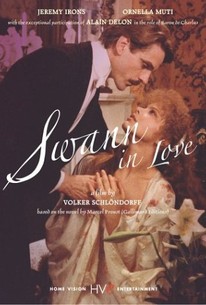 AUDIENCE SCORE
Critic Consensus: No consensus yet.
Movie Info
This ambitious attempt to film a portion of Marcel Proust's epic novel Remembrance of Things Past stars Jeremy Irons as Charles Swann, a Jewish intellectual who has managed to overcome growing anti-Semitism in 19th century France and travels in an elite social circle. But Swann has become obsessed with Odette (Ornella Muti), a courtesan who cares more for money than Swann's passion for her. In time they marry, but Swann soon realizes his desire for her is based purely on physical lust for someone with whom he has no rapport, or even much affection, and the relationship begins to erode the social acceptance Swann struggled to achieve. Meanwhile, the Baron de Charlus (Alain Delon) finds himself similarly attracted to a young man who does not share his desires. Un Amour de Swann was much praised for its production design and the cinematography of frequent Ingmar Bergman collaborator Sven Nykvist, though many felt director Volker Schlondorff failed to capture the narrative depth and complexity of Proust's novel. ~ Mark Deming, Rovi
Critic Reviews for Swann in Love
All Critics (4) | Top Critics (1) | Fresh (3) | Rotten (1)
Swann in Love is a stylish, period love story, surrounding its central characters with still other pathetic seekers of perfection.

Dramas about manners and ostracism in society have been done before and with more punch
May 30, 2004 | Rating: 3/5
Offers an anatomy of lovesickness as a blend of adoration, fear, pain, jealousy and anguish.
Audience Reviews for Swann in Love
½
A movie based on Marcel Proust's In Search of the Lost Time (excuse me if that is not the English title), more specifically on the book Swann's Way. So obviously it should be slow, and obviously it should be beautiful. There isn't really action, there isn't really a story. It's just a meandering tale in which Charles Swann, played by Jeremy Irons (who could not use his real voice!! And still was amazing!), has a desperate need to sleep with his favorite prostitute. But she's hard to convince... and he cannot sleep, cannot eat, wanders around Paris following her everywhere she goes. Ultimately, the experience develops into a void: what once burnt strongly enough for him to want to die, becomes meaningless, empty, and even repulsive. A very pessimistic, but beautiful movie by Volker Schlondorff. Lesson: Jeremy Irons is the best "longing lover" in the history of cinema.
½
[font=Century Gothic]"Swann in Love" takes place in Paris in the late 19th century. Aristocratic Charles Swann(Jeremy Irons) is obsessively in love with Odette(Ornella Muti) who has quite the scandalous reputation. Even though he does have very deep feelings for her, he has even deeper questions about her past. Swann makes a personal visit to a brothel to conduct further research.[/font] [font=Century Gothic][/font] [font=Century Gothic]"Swann in Love" is ostensibly about a love affair but is actually a scathing film about the hypocrisies of Parisien society of the time. The polite exterior contrasts with the ubiquitous antisemitism and other cruelties. And I thought the French Revolution was supposed to have solved some of those problems.[/font]
Swann in Love Quotes
There are no approved quotes yet for this movie.