S.W.A.T.
(2003)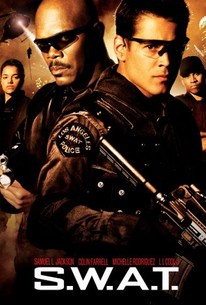 Movie Info
Samuel L. Jackson is a member of the special weapons and tactics unit in S.W.A.T., an action film from first-time feature director Clark Johnson. The disgraced Dan Harrelson (Jackson) puts together a team to protect a major drug lord (Olivier Martinez) who is offering a giant payday to anyone who can break him out of prison. Colin Farrell, Michelle Rodriguez, and Josh Charles round out this film that is based on a short-lived television series from the 1970s.
News & Interviews for S.W.A.T.
Critic Reviews for S.W.A.T.
Audience Reviews for S.W.A.T.
Kinda based on the American TV show but ultimately kinda not. Characters left out, new ones in, different ethnicity for the one member and turning one regular into the baddie. Kinda makes you wonder why they bother adapting these old shows if they're gonna change most of it. Luckily (amazingly) this film hasn't suffered too badly and is pretty much a stand alone action film, old TV show left by the wayside. When this was first brought up I instantly thought it would be crapola, just a weak timid action flick that would probably border on comedy. Much to my surprise the film is an out n out serious fast paced cop flick, more serious in terms of realism than say...'Lethal Weapon', but with less of the comedy. I think we can all guess its a film about a tough highly skilled elite team of cops, and this being a modern flick the testosterone is through the roof!. The clearly unfit Samuel L. Jackson leads a team consisting of Farrell, Rodriguez (again in another crack team of tough nuts), LL Cool J and two other faceless guys. In all honesty I think the team could have been better cast with better character actors from the 80's action genre, why we have to put up with these ex-rap/hip-hop stars with stupid names I don't know. The plot is sort of obvious but not completely, you'd expect the usual last stand type ordeal with a team but the film shows some imagination. The main bad guy spends most of his time cuffed with cops which is a brave move, the good guys tend to be always trying to gain the upper hand and never really in control and of course there is betrayal, which spices things up. Its not exactly hard to predict but it plays out a little differently than most cookie cutter action films. What is different is the fact half the film shows this team training, and what is shown looks pretty realistic I gotta say. Lots of skilled combat/hostage training with your cliched yet highly polished Top Gun-esq over the top camaraderie and macho showboating with liberal splashes of gun porn. It all looks slick sexy and makes you wanna run down to the local cop recruitment centre and get shooting. Oh those boys in blue do look handsome in their nice perfectly fitting uniforms and actionman body armour. The film isn't really very violent, it hints at some strong stuff, you just don't see it. I do tend to think that the film might have been much cooler had it been an all out adult film, bit more gritty and a bit less glossy perhaps. But in general its a solid action flick that you can easily enjoy without ever knowing the old TV show ever existed.
Phil Hubbs
Super Reviewer
½
Watchable. Suspend reality of course.
½
S.W.A.T is a film that had the potential of being a terrific, mindless and well executed action picture that relies on every cliché to create something that is supposed to be thrilling. Well, this was a disappointing and awful film that simply didn't do anything to entertain me. The cast were not well developed and the script had poorly written dialogue that was cringe worthy. I really wanted to enjoy this one, but it was a poor attempt at creating something truly awesome. This film started off with plenty of potential, but quickly ran out of steam. The film suffers from a poorly written, underdeveloped script that simply fails to try and deliver some thrills. However this is just a typical action film that doesn't break new ground despite its concept. If you're looking for a great and fun popcorn film, you won't find it here. This is simply an awful film with bad acting and poorly written and thought out direction. This film really could have been awesome, but it just ended up being a bland, uninteresting actioner that didn't deliver. There was some pretty impressive talent involved, but it was all wasted on a clichéd script that simply didn't know how to create something worthwhile to watch. This film is really not worth seeking out even if you have nothing else better to watch. This one is just a standard action film that is predictable and ultimately laughable. This was a wasted opportunity in trying to make something special; a\and despite good actors such as Jeremy Renner and Samuel L. Jackson, this one just didn't have the ingredients necessary in making something really awesome and highly entertaining. S.W.A.T might have looked good on paper, but on-screen it is a train wreck that just fails on almost every level.
S.W.A.T. Quotes
| | |
| --- | --- |
| Sgt. Dan "Hondo" Harrelson: | You still want to work S.W.A.T? |
| Chris Sanchez: | No. I just enjoy applying all the time. |