Sweeney Todd: The Demon Barber of Fleet Street
(2007)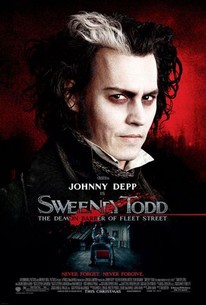 TOMATOMETER
AUDIENCE SCORE
Critic Consensus: Full of pith and Grand Guignol grossness, this macabre musical is perfectly helmed and highly entertaining. Tim Burton masterfully stages the musical in a way that will make you think he has done this many times before.
Sweeney Todd: The Demon Barber of Fleet Street Videos
Sweeney Todd: The Demon Barber of Fleet Street Photos
Movie Info
Unjustly sent to prison, a man vows revenge, not only for that cruel punishment, but for the devastating consequences of what happened to his wife and daughter. When he returns to reopen his barber shop, he becomes Sweeney Todd, the Demon Barber of Fleet Street, who "shaved the faces of gentlemen who never thereafter were heard of again." Sweeney's amorous accomplice, Mrs. Lovett, creates diabolical meat pies.
News & Interviews for Sweeney Todd: The Demon Barber of Fleet Street
Critic Reviews for Sweeney Todd: The Demon Barber of Fleet Street
Audience Reviews for Sweeney Todd: The Demon Barber of Fleet Street
One of the main accusations about Tim Burton is that he has essentially made the same film for more than thirty years. Burton's status as a latter-day auteur, with a distinctive visual style and approach to storytelling, has frequently left him open to the criticism that he is repeating himself. 'Burtonian' may not be as widespread an adjective as Kubrickian, Lynchian or Hitchcockian, but it comes with both the same pressure to live up to early promise and the same pitfalls of focussing on style at the expense of substance - a peril I discussed at length in my review of Wild at Heart. It cannot be denied that Burton has had moments in his career where his heart just hasn't been in it - usually when he has wandered out of his Gothic comfort zone to make a quick buck, as was the case with Mars Attacks! and Planet of the Apes. But between the latter and the calamity that was Alice in Wonderland, Burton hit a purple patch with three films which reiterated just what a creative genius he can be at his best. Having set the bar high with Big Fish and followed it up splendidly with Charlie and the Chocolate Factory, he then delivered this film, which sits comfortably alongside Ed Wood as the crowning glory of his career. If nothing else is true about Sweeney Todd: The Demon Barber of Fleet Street (Sweeney Todd hereafter), it is a fantastic riposte to the notion that Burton had somehow grown soft and sentimental in his middle age. This was always a rather rich comment, given that some of his earlier work, like Batman Returns, had been (unfairly) criticised for being too dark and cold. But for those who found Big Fish too cheerful, this is the perfect antidote, returning us to the grim, dark world, at once oppressive and fantastic, that Burton has made his own. When Mark Kermode reviewed the film on BBC Radio 5 Live, he described it as "the flipside of Edward Scissorhands", talking about how the look and manner of Johnny Depp's performance was a twisted inversion of that film's protagonist, turning Edward's innocent harming of those he loved into a conscious murderous crusade. There are also huge similarities in approach to Sleepy Hollow, not only with the 18-certificate violence but the emphasis on period detail and a community feeding on itself (quite literally, of course). The story of Sweeney Todd is one of the hardiest in English literature, with its origins stretching back to the penny dreadfuls of Charles Dickens' day and the early fallout of the Industrial Revolution. As British cities rapidly expanded as people flocked from the countryside, public fears abounded about rising crime and unscrupulous business practices - including the means by which food was now being manufactured. The first appearance of Benjamin Barker, in 1846's The String of Pearls, married the fear of cannibalism to barbers of the day serving as surgeons - the red and white poles outside barbers' shops symbolised the blood and bandages of their secondary trade. Burton sets out his intentions for Sweeney Todd in the elaborate opening credits, demonstrating both his fidelity to Stephen Sondheim's musical and his intrinsic understanding of its themes and tone. The mixing of blood and water, first in the clouds and finally in the sewers, is a brilliant visual metaphor for the way in which violence and vengeance contaminate everything they touch. Sondheim's overture, at once brooding and hysterical, puts us right in the edgy mood required for the plot to have impact, so that the second that Depp appears on screen, we feel intimidated. Perhaps no film since Get Carter (or possibly The Last House on the Left) has so perfectly captured the self-destructive nature of revenge - how those bent on vengeance end up becoming consumed by their own misguided obsession. The initial telling of Lucy's apparent demise leads us to sympathise (at least somewhat) with Sweeney's plight, but by the time he has killed for the first time he has already crossed over into darkness. Eventually he becomes so fixated on killing Judge Turpin that he doesn't even recognise the woman he loved, slitting her throat without saying a word to her. Burton's rendering of both her death and Sweeney's are both graphic and beautiful, using their blood in a manner that would make Dario Argento proud. The film is also interested in the complicity of all society in Sweeney's schemes, either by their direct involvement (Mrs Lovett and Toby) or their failure to intervene and stop him. One of the central lines comes outside the Old Bailey, when Judge Turpin asks Beadle Bamford whether the boy he just sentenced to death was guilty. Bamford mutters, "Well if he didn't do it, he had surely done something to warrant the hanging", to which Turpin replies, "What man has not?". What sounds like a platitude out of context is actually a telling remark on how society feeds on itself with no real regard for right and wrong - a theme later reflected in the song 'A Little Priest'. This brings us on to the singing, one of the main bones of contention among fans of the original musical. If you are expecting the actors to sing with the rounded, showy polish exhibited on Broadway or the West End (the kind of performance that always looks rubbish on film), then you will be disappointed. But while the tone of the piece is decidedly operatic - all big emotions and hearts worn on sleeves - the subject matter lends itself to a rougher, more angular style of delivery. Depp and Helena Bonham Carter sing very well, and the fact that they don't sound like naturally rounded singers works entirely to their benefit. The supporting cast beyond Depp and Carter is also really strong. The late Alan Rickman is perfectly cast as Judge Turpin, a part which, like Hans Gruber in Die Hard, is at turns darkly funny and deeply threatening. He sings like a deep bassoon and relishes being lecherous without ever over-playing it. Timothy Spall, who previously proved his singing credentials in Topsy-Turvy, struts through his part like a proud toad, again striking a balance between comedy and intimidation. And Sacha Baron Cohen, fresh off the back of Borat, gives one of his finest performances as Adolfo Pirelli; he's so charmingly ridiculous that he almost steals the show. Sweeney Todd also succeeds in marrying Sondheim's darkly comic lyrics to Burton's distinctive visual imagery. The cramped and dank streets of London are like the corrupted, industrialised descendants of Sleepy Hollow, and Dariusz Wolski (who shot Dark City) brings out the deep reds and sharp silvers to create a world which is both gruesome and painstakingly beautiful. The city seems to stretch forever, like a nightmarish labyrinth with Sweeney and Mrs Lovett as its Minotaurs, while the seaside scene hilariously juxtaposes Burton's designs with a sugary setting. Best of all is the closing scene, which borrows from The Third Man and the 'Acid Queen' sequence in Ken Russell's Tommy to conjure up a truly masterful climax. Sweeney Todd: The Demon Barber of Fleet Street is a stupendous triumph of a film, which both honours its source material and brings a unique approach to a well-worn story. Burton's storytelling and direction are absolutely superb, bringing out the rich, murky substance of the story while never neglecting its dark sense of humour. The visuals are stunning and the gore is wonderfully executed (ha ha), but we also care deeply about the characters. It is easily Burton's best film since Ed Wood, and ten years on it remains essential viewing.
Daniel Mumby
Super Reviewer
I normally don't like musicals but "Sweeney Todd" is an exception. The story is powerful and is accompanied with some decent songs. It gets brutal at times and the meat pies are downright disgusting. But still, it's very entertaining.
Eric Shankle
Super Reviewer
A musical slasher flick that is just beyond fun. This is Tim Burton and if you dont care for him dont watch but if you do this is a good one.
John Manard
Super Reviewer
Sweeney Todd: The Demon Barber of Fleet Street Quotes
| | |
| --- | --- |
| Sweeney Todd: | There's a hole in the world, like a great black pit. And the vermin of the world inhabit it. And it's morals aren't worth what a pig could spit. And it goes by the name of London. On top of the hole sits the privileged few, making mock of the vermin in the lower zoo. Turning beauty into filth and greed. I too, have sailed the world and seen it's wonders. For the cruelty of men is as wondrous as Peru. But there's no place like London. |
| | |
| --- | --- |
| Sweeney Todd: | Look at me, Mrs Lovett! Look at you! No, we all deserve to die... Even you, Mrs Lovett, even I! Because the lives of the wicked should be made brief. For the rest of us death will be a relief. We all deserve to die... |
| | |
| --- | --- |
| Sweeney Todd: | At last my arm is complete again! |
| | |
| --- | --- |
| Anthony Hope: | Mr. Todd you have to help me! Mr. Todd, please! |
| Sweeney Todd: | Out. |
| Anthony Hope: | Mr. Todd! |
| Sweeney Todd: | OUT!! |
| Sweeney Todd: | No I had him! His throat was bare beneath my hand. No I had him! His throat was there and now he'll never come again |
| Mrs. Nellie Lovett: | Easy now, hush love hush I keep telling you - Whats your rush? |
| Sweeney Todd: | When? Why do I wait? You told me to wait - Now he'll never come again. There's a hole in the world like a great black pit And it's filled with people who are filled with shit! And the vermin of the world inhabit it. But not for long... They all deserve to die. Tell you why, Mrs. Lovett, tell you why. Because in all of the whole human race Mrs. Lovett, there are two kinds of men and only two There's the one staying put in his proper place And the one with his foot in the other one's face Look at me, Mrs Lovett, look at you. |