Sweet and Lowdown
(1999)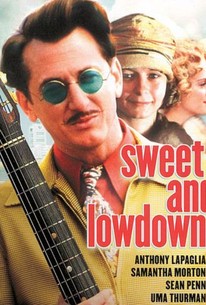 Movie Info
Emmet Ray, according to himself, was the greatest jazz guitarist of the 1920s and 1930s. At least in New York, anyway. Although Ray certainly had a signature style and a melodic skill, those who knew Ray best admit that perhaps he was best known in his extra-musical roles -- as a pimp and a kleptomaniac whose fatal flaws hung over his career like a black cloud.
News & Interviews for Sweet and Lowdown
Critic Reviews for Sweet and Lowdown
Audience Reviews for Sweet and Lowdown
This breezy mockumentary is Woody Allen's loving tribute to period (1930s) Jazz music. The fictitious Emmet Ray is considered to be the world's best jazz guitarist, if not guitarist in general, second only to his idol Django Reinhardt. The film follows Ray's career throughout the 30s (with occasional talking head contributions) as he goes from gig to gig lighting the places up. Offstage however, his life is a mess. Before he becomes famous, he makes his living as a small time pimp, and his favorite hobbies are shooting rats and watching trains. He's not savvy with his money, and he's rather temperamental, but, when you can get him settled down, he's quite something. He's not big on love, feeling that it will ruin his career, but he finds himself drawn to a mute laundress named Hattie, especially when he finds that she loves his music. However, his penchant for infidelity sees him running off and eventually impulsively marrying a high society woman named Blanche. For reasons that I don't want to get into, and seem nutty anyway, things fall apart with Blanche, but there is a bit of redemption and hope here for Ray. One of the amazing things here is that Ray is basically a shiftless, unlikable asshole, but yet you can't help but kinda feel for him and want to see him get through life okay. The film cooks along quite nicely, but then kinda falls apart at the end with a bit of rushed anti-climax. That aside, this film is pretty solid. I liked the mockumentary approach with the talking heads, and this also seems like something Allen had wanted to do for a while in general, being a big jazz enthusiast. The period details are terrific, the music is top notch, and the performances are golden. Sean Penn is terrific as Ray, and he may have done his own playing. Knowing him, he probably did. Uma Thurman is fun as Blanche, but the real treat is Samantha Morton as Hattie. Her performance is amazing. Yeah, it kinda feels like Oscar Bait, but don't tell me that having to play a mute is easy. She excels at having to express herself using just facial expressions and body language, and I loved seeing her channel the silent film era of performance. In various smaller roles we also get some fun turns from Anthony LaPaglia, John Waters, and Brad Garrett. I really enjoyed this. Had it not petered out towards the end, I'd enjoy it even more. It's a strong film, and achieves a decent balance between comedy and drama. If you love jazz, you should definitely give this a look. Same for those of you who dig on Allen. And anyone who wants a good film about music and musicians might be pleased here as well.
Chris Weber
Super Reviewer
½
For some art is therapy. Allen posits that the reverse also holds water, only not quite with this effort. Sean Penn is Allen's willing doppelganger here (not adopting Allen's much copied persona unlike most), a man afraid to connect emotionally to anyone. Can anyone get through his Maginot Line of defenses to get to the soul within? Pathos, instead of laughs, thereby infuses this supposed casual look at self-imposed solitude.
Kevin M. Williams
Super Reviewer
½
Quite delightful. Samantha Morton seriously doesn't need a voice. She has a face! I'm a little iffy about the mockumentary aspect of this movie. For much of it, I thought Emmet Ray was a real person. Then when I learned he wasn't, I wondered why Woody tried to make the biography seem so real. He doesn't eschew mixing fantasy and reality in his other films, so why create a Django Reinhardt-esque character who worships Django Reinhardt without differentiating between the real and fictional Django Reinhardts (think Tom Baxter and Gil Shepherd in The Purple Rose of Cairo)? Django Reinhardt.
Alice Shen
Super Reviewer
Sweet and Lowdown Quotes
There are no approved quotes yet for this movie.