Sweet Sixteen
(1983)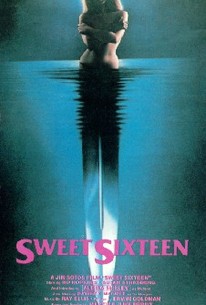 AUDIENCE SCORE
Critic Consensus: No consensus yet.
Movie Info
This standard slasher film from director Dimitri Sotirakis (using the pseudonym "Jom Sotos") is notable only for its fascinating cast. The story is a rather predictable affair as young Melissa (Aleisa Shirley) sees all of her friends being murdered after their 16th birthdays. Her mother (Susan Strasberg) worries, and Sheriff Dan (Bo Hopkins) is convinced that the local Indians led by Greyfeather (Henry Wilcoxon) are to blame, but when the "shock" ending finally comes, it is no surprise. Patrick Macnee, Don Stroud, Larry Storch, and Sharon Farrell lead the familiar cast, which also includes such genre favorites as Michael Pataki, Steve Antin, and Dana Kimmell, who starred in Friday the 13th, Part III the same year.
Critic Reviews for Sweet Sixteen
All Critics (1) | Fresh (0) | Rotten (1)
The film may generate a little bit more interest this year because "All the Boys Love Mandy Lane" seems to have taken a little inspiration from it.
Audience Reviews for Sweet Sixteen
½
Decent Slasher film, but quite forgettable, Sweet 16 is a film that could have been much better than what it turned out to be. I thought it was a good little idea, but it suffers nonetheless from a clichéd script, and so-so acting. This film adds nothing new to the Slasher genre, and this is one of those films that don't do anything new or exciting in the genre. The film is mindless fun, and genre fans should check it out, however by the end it just becomes dull. Sweet 16 at times suffers from inconsistencies and it starts off with potential, but ends up falling flat. Although not as bad as many other forgotten Slashers, this film had the potential of being much better. As it stands, it's a decent little flick with nothing really special happening on-screen. The cast are decent with no noteworthy performances. The kills are good, but by the films end, there's never any real payoff to this obscured Slasher. As a whole, it's fun, but you can see its potential wasted on a formulaic script that displays old ideas that we've seen many times before. If you're a fan of the genre, give this one a viewing. The film is nothing new, so don't expecting any refreshing ideas to be at work on-screen. Sweet 16 is a fun little film, but it could have been much better too. Overall it's a decent Slasher yarn that is mindless fun from start to finish, just don't expect anything great like Halloween or Friday The 13th. This is nonetheless essential viewing for genre fans.
Sweet Sixteen Quotes
There are no approved quotes yet for this movie.