Sweet Sweetback's Baadasssss Song
(1971)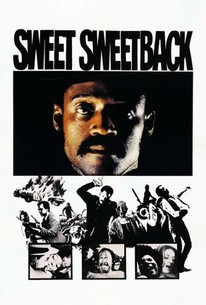 Sweet Sweetback's Baadasssss Song Photos
Movie Info
Produced, directed, written, scored by, and starring Melvin Van Peebles, this landmark "blaxploitation" film was as controversial as it was popular for its then X-rated story of one African-American man's triumph over the Man. After beating a couple of white cops he witnessed brutalizing a local black revolutionary, sex show performer Sweetback (Van Peebles) has to go on the run. As he flees through decrepit South Central Los Angeles, Sweetback demonstrates his formidable potency through sex as well as violence, evading the police manhunt by any means necessary. As Sweetback runs off into the sunset, however, Van Peebles warns that the story, like the 1960s racial strife, isn't over. ~ Lucia Bozzola, Rovi
News & Interviews for Sweet Sweetback's Baadasssss Song
Critic Reviews for Sweet Sweetback's Baadasssss Song
Audience Reviews for Sweet Sweetback's Baadasssss Song
Let's see: is this a good movie? Well, it's definitely an important film. As far as being "good" though, well...yeah, but it's really rough around the edges, and overall, it's a big mess. But I do applaud the effort, this film's impact, it's influence, and I do find it entertaining. When I say it's a mess though, I'm not kidding. Some of this is hard to watch, and at times, I had no idea what the hell was going on. I appreciate the techniques being used though, as they add to the tension and the experience of being chased, but I think that they could have done a better job of editing, and toned down the experimental stuff. This is a landmark film, and for a lot of reasons. It is often cited as the first Blaxploitation film, and, along with Shaft, and Super Fly, remains one of the highlights of that genre. It's also an important film for African American in general (and African American films and filmaking specifically), and is also a fine example of super low-budget independent guerrilla filmmaking. It's not without it's controversies (and for good reasons), but it's an important film that needs to be seen regardless, especially for those interested in film history and blaxploitation films. This is a wild, rough, and crazy mess, but it's also very interesting, entertaining, and just something where it's better to see it than to be talked to about.
Chris Weber
Super Reviewer
This is a landmark film for many reasons, and although it is rough around the edges, I urge everyone to at least watch it once, and then watch the story of the making of this film, Baadasssss! (A.K.A. How to Get the Man's Foot Outta Your Ass), made by the directors son, Mario Van Peebles. It is very easy for a modern audience to perhaps overlook this film as one of the slew of 'Blaxpliotation' films produced in the 70s, however this stands out firstly as virtually the originator of that mode of films, and as a crusade for a young, talented black artist and director to make a film that is both honest and challenging about the representation of black people in cinema. If nothing else you must respect Melvin Van Peebles for the Guerrilla film making techniques that created this movie. This film is a great argument for the importance to minority groups within any society to gain access to and control of media production in order to challenge dominant ideologies and representations put forward in mainstream media. It is also virtually impossible to view Baadasssss! without a tear coming to your eyes, so difficult and harrowing was Melvin Van Peebles journey to get this film made.
Cassandra Maples
Super Reviewer
½
Wow, I'm not sure what I was expecting, but I don't think it was this. A landmark of cinema, this film doesn't pull any punches, from the first memorable scene where young Sweetback gets his name, via a bunch of violence, sex and racism, through to the second half which mostly involves running a lot. An Earth Wind and Fire soundtrack, but you won't be hearing any of their hits. One of a kind. .
Sweet Sweetback's Baadasssss Song Quotes
There are no approved quotes yet for this movie.