The Sweetest Thing
(2002)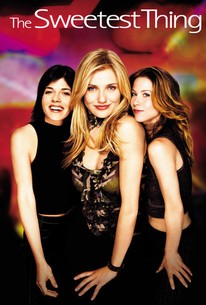 The Sweetest Thing Photos
Movie Info
Former South Park writer and Win Ben Stein's Money sidekick Nancy Pimental makes her feature screenwriting debut with this relationship comedy. Cameron Diaz stars as Christina Walters, a jaded, club-hopping single woman in Boston who has given up trying to find the perfect mate to focus on "Mr. Right Now." Her equally cynical friend, Courtney (Christina Applegate), a divorce attorney, shares much the same attitude. Christina's life changes forever one evening at a nightclub where she meets Peter Donahue (Thomas Jane), a man she finds adorable and just about perfect. Unfortunately, Peter disappears and all she knows about him is that his brother, Roger (Jason Bateman), is getting married soon and having a bachelor party nearby. When crashing the party doesn't pan out, Courtney suggests they road trip to the wedding and Christina agrees, leading to encounters with a series of obstacles, including some funky leftovers and an insane bank security guard. The Sweetest Thing co-stars Parker Posey and Selma Blair.
News & Interviews for The Sweetest Thing
Critic Reviews for The Sweetest Thing
Audience Reviews for The Sweetest Thing
Please, somebody could say to Cameron Diaz to stop make any movies, they're just horrible and that the only good comedy which she made a big role is There's Something About Mary and The Mask, thank you. The Sweetest Thing is a mix of a gross out and romcom that is really silly, so silly that makes me want to puke. It's one of this movies that is look like an awful music that you doesn't like, but stay in your mind and tortures you. Dispite the scene being in your mind, it have the able to make you embarrassed, from the first until the ridiculous ending credits.
Lucas Martins
Super Reviewer
The idea forwarded here seems to be that cows can be just as stupid and lewd and backward as bulls (!!!). The result amazingly reaches the same conclusion: boring, and embarrassingly so. The cast, however brave, fails to lift the material. The groaning you will hear, that'd be you.
Kevin M. Williams
Super Reviewer
Hilarious! Some of the scenes were cringing but you couldn't help but laugh.
Bethany Murphy
Super Reviewer
The Sweetest Thing Quotes