Swingers
(1996)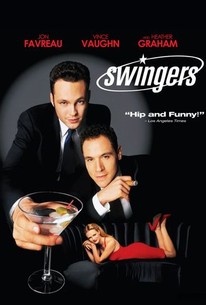 TOMATOMETER
AUDIENCE SCORE
Critic Consensus: Funny, heartfelt, and effortlessly cool, Swingers made stars out of Vince Vaughn and Jon Favreau, established Doug Liman as a director to watch.
Movie Info
An ensemble comedy about five guys, all in their 20s, all coping with the mysteries of life and women, set in the back streets and sometimes hidden clubs of Hollywood. It's a story told in the language of the "cocktail nation," a growing 20-something, retro-Swing dance movement that's taken Hollywood by storm and is beginning to sweep the nation. Mike is down in the dumps because he left his girlfriend behind in New York when he came to Hollywood to seek his acting fortune. Instead, he's found loneliness and the blues. Now, after six months of dealing with Mike, his buddy Trent and the other swingers have had enough. It's time to bring Mike back to life.
News & Interviews for Swingers
Critic Reviews for Swingers
Audience Reviews for Swingers
With some great performances and a plot that is probably relatable to many people, "Swingers" is the type of film that may not break records or become a classic, but it is definitely a great film that many can enjoy endlessly. I found myself engaged in what each character was doing and the friendships felt hilariously realistic. Vince Vaughn's character is really the only one that get's to be a tad annoying after a while, but once you are used to him, you become more forgiving. From losers to players in a matter of one night, these guys make you wish you had the balls to do some of the things that they can do. In the end, I would surely recommend this to annoying who either wants to enjoy a great drama or a fun comedy, because it equally delivers both. There are a few slow moments where the film feels like it is about to drag, but it is quickly picked back up again. "Swingers" is a lot of fun!
½
'Swingers'. One of the most authentic movies about guys and their nature I've ever seen. Even though it's in a time and place that I never experienced, the dialogue by Favreau feels so real, and their little world at the time, captured perfectly. If it isn't enough that he wrote a darn good screenplay, Favreau plays the lead character, Mike, admirably. He's a lovable dude, even when you can't believe some of the idiocy on display when he's in his relationship funk. And that voicemail scene?! Ouch. I almost wanted to block out the screen, while laughing out loud at the same time. Surely the most memorable Favreau scene in his filmography. The movie transitions very nicely from this buddy ensemble to a sweet romance in one scene at the bar, and you can't help but cheer when he hangs up on his ex, knowing that he's ready to move on. Money, baby, money!
"You're money and you don't even know it!" Wannabe actors become regulars in the stylish neo-lounge scene; Trent teaches his friend Mike the unwritten rules of the scene.
REVIEW
When released in 1996, "Swingers" became an indie film sensation on par with "Sex, Lies, and Videotape" and "Reservoir Dogs" earlier. To be honest, it didn't really deserve that status, because it doesn't have the power either of those flicks held. Still, its quite enjoyable and easy to see why it became a favorite among dissatisfied twenty something males, with whom the flick touched a nerve. The characters spend their time cruising the hip nightspots of Hollywood trying to pick up chicks, and often failing either due to their bloated egoism or social awkwardness. Some critics of the film thought it was a bit misogynistic, and maybe it was, but it was also a rather accurate depiction of how many males in similar circumstances feel. The technical credits all around are quite good for a low-budget picture. The direction by Doug Liman isn't anything extraordinary, but it keeps the film moving at a quick pace. Its a shame that after this and the equally enjoyable "Go", he graduated to lousy mainstream products. The script by Jon Favreau is full of memorable dialog, classic scenes, and surprisingly a sympathetic protagonist. As the main character, Favreau creates a likable individual and Vaughn is charismatic here, but hasn't really done anything worthwhile since. All in all, this isn't an extremely powerful motion picture or anything like that, but its a breezy and amusing way to kill an hour and a half.
Lorenzo von Matterhorn
Super Reviewer
Swingers Quotes
| | |
| --- | --- |
| Trent: | Our little baby's all growns up |
| Trent: | Our little baby's all grown up. |
| | |
| --- | --- |
| Mike: | The whole Judy Garland thing kinda turned me on. Does that make me some kind of fag? |
| Trent: | No baby, you're money. |
| | |
| --- | --- |
| Mike: | and Im supposed to be all happy cause she's wearing a napasck |
| Mike: | And I'm supposed to be all happy cause she's wearing a knapsack. |
| | |
| --- | --- |
| Rob: | After a while you start to miss the pain. Because just like her, you spent so long with it. |