Swiss Army Man
(2016)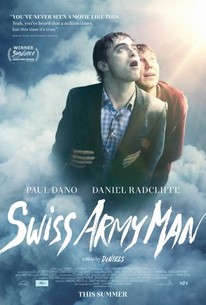 TOMATOMETER
AUDIENCE SCORE
Critic Consensus: Disarmingly odd and thoroughly well-acted, Swiss Army Man offers adventurous viewers an experience as rewarding as it is impossible to categorize.
Movie Info
Outrageously fun and deeply affecting, Swiss Army Man is a gonzo buddy comedy that is the feature film debut of acclaimed music video directors Daniel Scheinert and Daniel Kwan (collectively known as DANIELS, and responsible for the visionary "Turn Down For What" video, among many others). Bursting with limitless creativity in both form and content, Swiss Army Man goes from the absurd to the emotional to the whimsical to the profound and back again. Hank (Paul Dano) is stranded on a deserted island, having given up all hope of ever making it home again. But one day everything changes when a corpse named Manny (Daniel Radcliffe) washes up on shore; the two become fast friends, and ultimately go on an epic adventure that will bring Hank back to the woman of his dreams. Swiss Army Man creates a world like no other-a place of pure fantastical imagination, brimming with magical realism yet featuring two characters whose dreams and fears are entirely relatable. Dano and Radcliffe both fully commit to their directors' audacious vision, and their work is exceptional, finding the perfect balance of humor and heart that drives the whole film. A celebration of all the wonders cinema has to offer, Swiss Army Man is a cultural phenomenon in the making; a surreal and wholly original examination of human vulnerability and connection that must be experienced.
News & Interviews for Swiss Army Man
Critic Reviews for Swiss Army Man
Audience Reviews for Swiss Army Man
It is one of those movies that seem like tailor-made for Sundance, so insanely quirky and trying so hard to be extraordinary that the quirkiness feels like an end in itself; even so, the actors are good enough to raise it above its limitations and it works better than we would imagine.
Carlos Magalhães
Super Reviewer
When it comes to being an auteur filmmaker, the sky really is the limit. That being said, you can only go so far before you begin to draw the line between strange and just downright ridiculous. Written and directed by Daniel Kwan and Daniel Scheinert, or as they refer to themselves in the opening credits, Daniels, they use their imagination to its fullest potential here, going balls to the ball in almost every scene. After reading many reviews for this picture, I found that this may just be the most polarizing film of 2016, between people who loved it or hated it. In the end, I would have to say I loved watching this film, but here is why I think Swiss Army Man does not quite live up to its fullest potential. Beginning very dark with a man who has run away from home and wanting to commit suicide, Hank (Paul Dano) comes across a corpse that has washed up on the beach. Later discovered that he may or may not actually be alive, he communicates through farting, mocking, and being used as a human swiss army knife. The list of this man, played by Daniel Radcliffe, goes on and on, as far as the things his character can do throughout this film. While he does not have too much dialogue, his performance is definitely the highlight of this entire film, as it leads to the most beautiful aspects of the backstory. From farting to chopping wood and starting fires with bare hands, you don't really expect this film to ever slow down. It is far too weird in the first act to every think it may make you tar up, but it got me. It embraces its weird aspects, so if you are unable to buy into those aspects, you will definitely lose interest about 10 minutes into Swiss Army Man. The second act of this question really makes you question the world out there and that everyone is much more alike than they might think. The very unique montages and cross-dressing sequences make the story much more fleshed out and I found myself much more compelled by this bizarre film than I ever thought I would. That being said, I do not believe the third act of this film is as strong, and it kind of left me slightly chuckling, rather than being moved. After setting up multiple scenarios for the way this film could have ended, it takes a very natural approach, as to what some people may think if they were to see these characters. I feel as though the film knew it was strange and just stuck with that until the very end. I applaud the filmmakers for not not expecting its audience to think too far outside the box, but the final few minutes left me very disappointed I'm not going to lie. Although it left a lot to be desired in my opinion, this film still doesn't hold back any punches in its first two acts, making for one of the most enjoyable viewing experiences I have had in quite some time. If a filmmaker has a specific vision they want to share with the world, whether it is strange or generic, they have every right to have the chance to bring that idea to life. Daniels definitely had one of the strangest ideas I have seen in recent memory and I had an absolute blast watching it. In the end, Swiss Army Man is an exploration of the weirdest and most elegant aspects in the world of film. If you are a film lover and are willing to accept anything when you watch a film, as long as it has meaning, then I can guarantee you will enjoy this film. Filled with incredible ideas, some great storytelling, and some genius ideas that can only be seen in a film like this, Swiss Army Man is great; However, the conclusion really let me down, so it does taint my overall perfect score quite a bit. Overall, this film is extremely well-made.
A creative and unique look at loneliness, that which is created for us and that which we create on our own. Yes, filled with plenty of Mel Brooksian humor buuuutt,by the end of it we who remain have enjoyed an interesting look into the psyche with an answer or two about how to live life.
Kevin M. Williams
Super Reviewer
Swiss Army Man Quotes
There are no approved quotes yet for this movie.