Switchblade Sisters
(1975)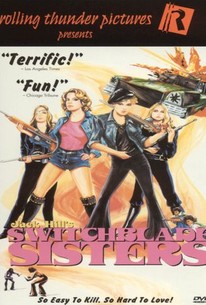 Switchblade Sisters Photos
Movie Info
In this low-budget exploitation crime drama, a band of bosomy female gang members engage in violent rivalry with another gang. The film is also known as The Jezebels and Playgirl Gang.
Critic Reviews for Switchblade Sisters
Audience Reviews for Switchblade Sisters
Summary: Your typical 70s exploitation film about an all-girl gang who goes to war with not only a rival gang, but themselves as well. The Good: The fight scenes are decent, and all the girls are very beautiful. Acting is decent with the exception of a few. The Bad: As you can expect from a 70s exploitation flick, the story is boring and most of the characters are forgettable. Robbie Lee, I can't say she is a bad actor, but she has a very different kind of acting style that you either love or hate. Acting: 6/10 Story: 5/10 Originality: 5/10 Soundtrack: 6/10 Characters: 8/10 Overall: 6.5/10 Sexiness: (The following is my Review for the fappers 18+): There was no nudity except for a quick boob shot, but all the girls are very beautiful, especially the two main girls, Lace (Robbie Lee) and Maggie (Joanne Nail). I thought Lace was super pretty, especially her face and eyes. Maggie is your classic blonde girl from the 70s. There are some nice cat-fight scenes and a semi-rape scene with good moaning but not much skin. Fap Rating: 7/10
Professor Wizenhymer
Super Reviewer
½
A fantastic girl gang action drama movie, I really liked it. The actors are good, the story is realistic and very good. It's full of action and violence. It's a lot of fun, and I highly recommend it.
½
such a great movie from the 70's about wayward girls running around being hoodlums! classic one-liners all over the place.
Alexis Nomm
Super Reviewer
Switchblade Sisters Quotes
There are no approved quotes yet for this movie.