The Sword and the Sorcerer
(1982)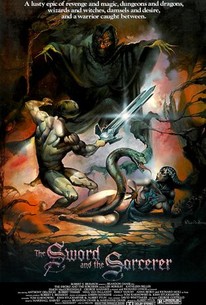 The Sword and the Sorcerer Photos
Movie Info
This is an unusual entry in the knights-in-armor genre. Set in medieval England, the film follows the exploits of a young swordsman, Talon (Lee Horsley). Working as a mercenary knight, Talon possesses a unique three-bladed sword which fires its two extra blades when he touches a button. By chance, Talon learns that he is a prince who has forgotten his royal heritage. Using his sword and his wiles, he attempts to regain control of his kingdom, which has been taken over by a sadistic tyrannical knight and an evil sorcerer. In doing so, he can save a princess who has been taken hostage by the usurpers. Comedy is interspersed with gory and licentious drama throughout the film, which was directed and written by Albert Pyun.
Critic Reviews for The Sword and the Sorcerer
Audience Reviews for The Sword and the Sorcerer
½
Mr Pyun's first film and after seeing it probably his best film with possibly the biggest budget and release success over all his productions. On top of that the film was actually reasonably well received and got a small toy line too!. On the visual side this film is really nice showing a lot of detail with some lovely sets and location work, the costumes on display really add to the mix too with lots of medieval armour, period type dresses/garments along with your more common barbarian/warrior approach. Of course if you think along the lines of 'Conan' 'Red Sonja' 'Krull' and even old swashbucklers with the likes of Errol Flynn you will get a good idea of what this film is like. Everything you relate to your average Dungeons & Dragons fantasy is in here, a hero who's parents are killed by an evil tyrant comes of age and comes back to kill the tyrant with his band of mercenaries armed with a powerful three bladed sword. Add a demon who also seeks revenge against the evil tyrant, a damsel in distress and the charm of 80's light and sound effects alongside over the top killing. The whole film is very cliched and predictable with a lot of hammy acting but its suppose to be that way really, it doesn't hide that fact and nor is it suppose to be a serious drama, in terms of action its a bit placid with lame fighting and silly blood but in terms of design and looks it beats Arnie's 'Conan' hands down!. The sequences with the evil undead demon sorcerer are really decent makeup wise and reminded me of 'Darkness' from 'legend', when the demon sorcerer perishes the effects are really really good too, quite a surprise. Its a slow burner in places and kinda rollercoasters with the excitement but it does have quite a classic feel about it, almost historical or Shakespearean in places with names like 'Cromwell' and the elegant attire. A few minor silly spots do remind you its a silly fantasy, one being the three bladed sword that looks too cumbersome and heavy to wield properly and then you discover it actually fires the blades individually as projectiles! very 'Krull'. Surprise winner if you enjoyed all the other similar fantasy films of the 80's, if you didn't then best avoid.
Phil Hubbs
Super Reviewer
½
In an ancient land, a pillaging tyrant awakens an ancient sorcerer/demon and uses his powers to take over a kingdom. He manages to kill all but one of the royal family. The son, Talon escapes, using his father's triple-bladed sword to defeat his would-be captors. Years later, Talon is leading a band of mercenaries across the land when he's caught up in a rebellion against his family's murderer. It's a standard enough plot for one of these "sword and sorcerery" type films from the eighties (ie. "Conan the Barbarian", "The Beastmaster", etc), but it's goofily effective. The main character Talon (as portrayed by Lee Horsley) is kind of a goofy charmer, and the whole thing feels like a spirited throwback to the Douglas Fairbanks/Errol Flynn swashbucklers of old. Granted, the special effects are of the low budget variety, as are some of the actor's performances, but it's one of those films from my childhood that still holds some enjoyment and fun.
Devon Bott
Super Reviewer
One of the better fantasy films produced in the early 80's and one of my guilty pleasure movies The Sword and the Sorcerer was a hit at the box office. I've watched this film countless times over the years, and its effect on me is every bit as strong as an adult, as it was when I was a boy. While not the highest-budgeted fantasy ever made, this movie deserves extra praise for its atmosphere. The filmmakers did the best they could with what they had, and despite the obvious camp factor, the scenery manages to be intriguing and eye-catching all at the same time. The performances are also more than worthy of note. Richard Lynch, the perennial sci-fi villain, performs beautifully as Cromwell; he simply exudes evil. Lee Horsley does an admirable job of playing the rogue Talon in his first feature film. Kathleen Beller makes a strong, yet sensual heroine in her portrayal of Alana, and Simon MacCorkindale truly shines in one of the movie's best scenes, in the torture chamber with Cromwell. And what more can I say about Xusia? He's awesome. Living proof that sorcery doesn't always have to be flashy to be deadly. Of course, the swords themselves deserve special mention. They're so outrageous, you just can't help but love them! I tend to think of Albert Pyun as one of the few directors who could dream up something so brazen and actually make it appealing to the masses. But above all, the fun factor is what makes this movie most enjoyable. This is the film that is the camp cousin of Conan the Barbarian While it's definitely not for realists (as if there is such a thing when it comes to fantasy!), those who can manage to suspend their disbelief long enough to be drawn into this magical world should find themselves greatly entertained. Just relax, and have fun with it. You'll like it.
David Ladd
Super Reviewer
The Sword and the Sorcerer Quotes
There are no approved quotes yet for this movie.