Swordfish
(2001)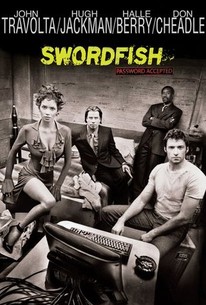 TOMATOMETER
AUDIENCE SCORE
Critic Consensus: Swordfish is big on explosions, but critics dislike how it skimps on plot and logic. Also, the sight of a person typing at a computer just isn't that interesting.
Movie Info
Director Dominic Sena follows up his stylish action film Gone in 60 Seconds (2000) with this high-tech thriller. John Travolta stars as Gabriel Shear, a charismatic spy who plots to steal a multi-billion-dollar fortune in illegal government funds. In order to make his scheme work, however, Gabriel needs some help from a computer hacker, which is where Stanley Jobson (Hugh Jackman) comes in. Stanley has been paroled from prison after serving a lengthy sentence for penetrating the FBI's cyber-surveillance operations. Issued a restraining order that keeps him away from computers and living penniless in a trailer park, Stanley wants only to be reunited with his daughter Holly, who's in the custody of his ex-wife, now remarried to a pornographer. Gabriel and his partner Ginger (Halle Berry) offer Stanley the chance to get his child back in exchange for his help, but the hacker soon realizes he's a pawn in a larger operation than the high-tech bank heist he thought he was perpetrating. In the meantime, a dedicated federal agent (Don Cheadle), the same man who once arrested Stanley, is trying to expose Gabriel's operation. Swordfish also stars Sam Shepard and Zach Grenier. ~ Karl Williams, Rovi
News & Interviews for Swordfish
Critic Reviews for Swordfish
Audience Reviews for Swordfish
½
Possibly the stupidest movie title ever? We do find out why during the film but still. Possibly the stupidest look for Travolta? The most camp hairdo? Gotta be contenders huh. This film is basically about hacking computers, stealing lots of money and transferring it here there and everywhere in a flurry of slick sexy sequences. That's pretty much it, Travolta's character tells us its all in the name of national security and for US protection against terrorism, which it does seem to be. So this begs the question why is Travolta and his goons made out to be bad guys when they're working for the US government and hitting back at dangerous terrorists? The FBI finds out about the operation, OK its a dodgy op but what's wrong with it? Apart from being very much like an ensemble 'Bond' flick the film actually offers a few interesting insights. Halle Berry's first topless scene is the big one (no pun intended), doesn't really add anything to the film and feels pointless but its there. This was only Vinnie Jones second major Hollywood film and again he has very little to say, still weird to see him in a Hollywood film at the time though. Twas also only Jackman's second Hollywood action film also, after 'X-Men'. This was one of the earlier films for Cheadle which started to push him further into bigger action films. Likewise this was a film within a string of action films for Travolta that all kicked off after success with a certain Tarantino film. A bland film really with little to show, the action is impressive but doesn't feel required. It also seems way way over the top just for the sake of it. The plot doesn't really make much sense, its simple yet made out to be grand and complex with lots of tech talk and government plots. Thing is you can see right through it, its just an action film with too many big stars that are knee deep in makeup. An odd collection of stars too, none of them really gel together. I really got the impression that certain scenes and stunts are in there just to keep you the audience interested, as none of it serves the plot. At the start where Travolta's character is doing his own little Tarantino-esq bit of dialog, Berry topless as said before, Jackman's character getting a blow job whilst trying to crack a code, sexy ladies asses on display, a car chase where Travolta uses an M60 machine gun (I think) etc...The story could be told without all that. Its like a compilation of sexy smooth cool sequences which is assumed people will like. The actual plot and character development seems to have been added afterwards as an afterthought. The finale typifies how the director tries to make this out to be a clever film. Travolta's character seemingly escapes in a chopper but gets blown to kingdom come by a rocket launcher. We then discover that a body double was in the chopper and Gabriel tricked everyone. But how did Gabriel know his chopper would get shot down? What if Jackman's character didn't use the rocket launcher? He didn't have to, he may not even of thought of it seeing as the weapon was back on the bus. That was the clever twist the film had been building up to! that and another which wasn't exactly groundbreaking. So really the bad guys entire dastardly plan seemed to hinge on whether or not the good guy would use a particular weapon at a particular time, that's some good crystal ball skills right there.
Phil Hubbs
Super Reviewer
½
"Swordfish" is talent, talent, and more talent, but nothing more sadly. Hugh Jackman, John Travolta, and Halle Barry are all enjoyable in their roles, taking every line of dialogue seriously, even though the script is the weakest part of the film. Starting the film at the end and working it's way back to that point worked for this particular story, but it was the ending that ruins the film, so it was deemed pointless in the end. As a team recruits a hacker (Jackman) to use state-of-the-art computers to hack into the government, there are some very intense moments driven by performances and the consequences of the multiple outcomes, but that all has no matter in the end. Going from small hacker-flick, to full on overblown action-flick by the third act, this film has no idea what it's identity is and it is all over the place. Confused in every regard, "Swordfish" is a promising story that is not very well executed. That being said, I enjoyed watching this story and some of the action was really fun. In the end, this is a very forgettable film.
[img]http://images.rottentomatoes.com/images/user/icons/icon13.gif[/img] Like most star studded Hollywood movies that try to do something original or quirky, Swordfish fails to cover new ground and subsequently dissapoints even as a generic yet somewhat promising blockbuster. The fundamental flaw with the script is in how it attempts to outsmart it's own premise. I'm sorry, but you cannot allow a person typing away at a computer to take up an entire scene with no clear form of suspense. At least "The Pelican Brief" kept you tense while nothing was happening. But watching Swordfish is like waiting for a video game to download, you wan't it to get the dull and dismal plot points over with so you can get to the explosions and gunfights. That is after all what this movie was made for right? Well, apparently not. The performances and the action choreography is essentially the only saving grace of the film. In the classic neo noir pulp style, there's a scene where Halle Berry (Catwoman in the 2004 flop) is required to expose her breasts in a seductive fashion, but to no effect whatsoever other than a quick chuckle, the fact I found it funny and not unsettling proves how it's merely an expression of style without the sexiness. Writer Skip Woods went on to pen X Men Origins: Wolverine, so it's no surprise the lines are as rusty as they could possibly come. In fact, one of the most interesting moments of the film is the gripping opening, where John Travolta begins to explain the lack of originality in Modern Hollywood action movies. He references the genius of Sidney Lumet's "Dog Day Afternoon" and how beautifully directed, well lit and well written it was and stresses that it wasn't the same old fare that could have had an unbearable lack of "creativity", but didn't. In the first 5 minutes I figured this would be a satire on the cliched Hollywood movie, it certainly looked like it. But within seconds it just staggered completely downhill. The irony of this is that Swordfish is a messy, self indulgent, dull, uninteresting, anticlimactic thriller that goes for edgy and revolutionary but comes across as boringly generic and unbearably camp.
Directors Cat
Super Reviewer
Swordfish Quotes
| | |
| --- | --- |
| Gabriel Shear: | Do you know what the problem with Hollywood is? They make shit |
| Gabriel Shear: | Do you know what the problem with Hollywood is? They make shit. |
| | |
| --- | --- |
| Gabriel Shear: | Thousands die every day for no reason at all, wheres' your bleeding heart for them? You give your twenty dollars to greenpeace every year thinking you're changing the world? |
| | |
| --- | --- |
| Gabriel Shear: | Life is stranger than fiction sometimes. |