Sympathy for Lady Vengeance
(2005)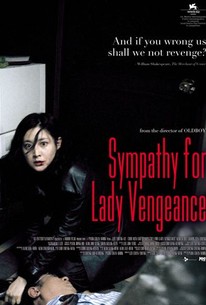 TOMATOMETER
AUDIENCE SCORE
Critic Consensus: Stylistically flashy and gruesomely violent, Sympathy for Lady Vengeance fits in nicely with the other two films of Park's revenge trilogy.
Sympathy for Lady Vengeance Photos
Movie Info
A woman looks for both revenge and redemption after spending 13 years in prison in this offbeat thriller from South Korea. Lee Geum-ja (Lee Yeong-ae) was in her early twenties when she was found guilty of kidnapping and killing a young boy, and though she confessed to the crime under duress, while behind bars she dreamed of one day being able to clear her name -- and even the score with the people who railroaded her, including the police officer who brought her in (Nam Il-woo) and Mr. Baek (Choi Min-Sik), a teacher who wronged her in a number of ways. Lee Geun-ja teams up with a number of friends she made during her time in lock-up, including Woo So-yeong (Kim Bu-seon), a thief with a gunsmith for a husband; Oh Su-heui (Ra Mi-ran), who was saved from assault at the hands fellow inmates by Lee; and Preacher Jeon (Kim Byeong-ok), an eccentric man of the cloth who was struck by her gentle nature in jail. As Preacher Jeon helps Lee seek salvation for all she had to do while in prison, her other friends stand by her side as she gets even with her rivals and searches for the daughter she was forced to leave behind when she was convicted. Sympathy for Lady Vengeance (aka Chinjeolhan Geum-ja-ssi) was the third film in a series, preceded by Sympathy for Mr. Vengeance, and Old Boy. ~ Mark Deming, Rovi
Critic Reviews for Sympathy for Lady Vengeance
Audience Reviews for Sympathy for Lady Vengeance
½
The final part of Chan-wook Park's vengeance trilogy sees an angelic looking young woman imprisoned for the kidnap and murder of a young child. Upon her release from prison 13 years later, her plan for vengeance on the real killer is set in motion. The core of the film is the duality of Yeong-ae Lee's role; her angelic appearance belying her ruthless and single-minded pursuit of her goal, and her quest for vengeance tempered by her feelings guilt about her part in the boy's death. It's not as bleak as Oldboy and does not have it's complex relationships and twists and turns in plot. The characters find some form of redemption by it's end, although the psychology of revenge is examined; do two wrongs make a right? Min-sik Choi's child killer is completely without redeeming qualities, but it is still uncomfortable seeing his suffering at the hands of the people he has wronged even though they are acting on the part of justice rather than cruelty. Visually, it's stunning. Chan-wook Park's eye for composition is wonderful, and combined with a beautiful use of colour, location, costume and set design it truly is breath taking to look at. The title sequence and even end credits are gorgeously designed; add to this a lovely baroque soundtrack and the product is something akin to an cinematic work of art.
½
[img]http://images.rottentomatoes.com/images/user/icons/icon14.gif[/img]
Directors Cat
Super Reviewer
A young woman sets out for revenge and redemption after serving 13 years in prison for a grim crime. Why she sets out revenge is something I don't want to give away, but let's just say that it's rather heartbreaking. This is part three of Park Chan-wook's "Vengeance Trilogy", and, like the other two, it provides a unique take on the concept of vengeance, and the consequences and repercussions of it. It's not quite as good as Oldboy, but it's more polished and solid than Sympathy For Mr. Vengeance. Similar to how "Mr. Vengeance" had shades of Fargo, this one has shades of stuff like Natural Born Killers or even Serial Mom with the quasi documentary way parts of the story are told, namely with the interview segments and flashbacks that pepper in the development for the lead character. It also love the (very dark) sense of humor and irony, both in these scenes, and throughout the film as a whole. Don't get me wrong, this is a very serious, grim, and unsettling film, but there is a clear sense of gallows humor that follows the proceedings, even in some of the more brutal moments. The characters are well rounded, and the acting is tremendous. Lee Yeong-ae is front and center here, and this is one amazing performance. Like the other two films in the trilogy, there's some really tough subject matter, but the actors manage to get through it remarkably. The art direction, visuals, editing, and music are top notch, and this one is really gorgeous. What I love as well is that (and this includes all three films of the trilogy) is how, no matter how graphic and disturbing the content is, there is always a point to it, and when they end, you are left with a lot to think about. Give this one a look. It's hard to watch at times, but it's worth it.
Chris Weber
Super Reviewer
Sympathy for Lady Vengeance Quotes
There are no approved quotes yet for this movie.