Syrup
(2013)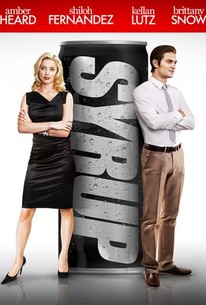 Movie Info
Based on the best-selling book, SYRUP is an edgy comedy that exposes the cut-throat world of advertising through the eyes of a young prodigy chasing fame, fortune, and the woman of his dreams. Fresh out of school with a degree in marketing, Scat will do anything to prove that he has what it takes to swim with the rich and wildly successful. Scat comes up with a brilliant new product that gives new meaning to the old saying "sex sells." He is sure it will send him right to the top...if only he can convince his boss, the beautiful and mysterious "6," that it's an idea worth millions. Betrayed by his best friend "Sneaky Pete," Scat stumbles through an industry riddled with deception. As he begins to realize that fame and fortune have cost him his morality, he must rediscover his true self behind the elaborate image he has created or risk losing the love of his life. In a world where the average person sees over eight hundred ads in a single day, SYRUP takes a biting look at the insidious-and often ridiculous-side of advertising. Crackling with romance and humor, this razor-sharp satire leaves you guessing and laughing until the end. (c) Magnolia
Audience Reviews for Syrup
½
Based on the acclaimed novel, Syrup is a hard hitting comedy about the advertising industry. After stealing a million-dollar idea for an energy drink from a freelance agent named Scat, the company's top ad executive, Six, decides to partner with him in order to develop a successful ad campaign that'll save her job. Amber Heard gives an impressive performance that has a lot of charisma. And, the film uses an interesting narrative that breaks the fourth wall; with characters turning to the camera and delivering witty commentaries about marketing. Still, the shop talk gets a bit confusing and the character arcs are somewhat unsatisfying. Though it's not quite as clever as it thinks it is, Syrup is still a fun satire.
Dann Michalski
Super Reviewer
Syrup is satirical comedy based on the novel of the same name by Max Barry. Directed by Aram Rappaport and screenplay written by the director and the author of the novel - it had potential! But when you hear that the movie will be released as a Video on Demand only - that potential is usually not reached! Perfectly casted Amber Heard as 6 (Elizabeth) and Shiloh Fernandez as Scat (Michael) accompanied by Kellan Lutz as Sneaky Pete, Brittany Snow as Three, Josh Pais as Davidson and Kate Nash as Beth, gave everything they have, and that should be enough for a positive review. The camera work was sometime quite exciting, every part was edited very well, the sound was perfect... yes, there was nothing too exciting... but there was nothing bad either! It was somewhere in the middle with the story, it had its laughs, not huge, but there were still laughs. Following the guide in marketing with Scat (Shiloh Fernandez) wasn't boring, but I never got too excited, either. Advertising is, of course, the art of creating a need where none exists, and at this Scat - he thinks it sounds like jazz, but to others it evokes animal poop - is something of a master. He spent lots of time couch-surfing and staring at the ceiling, but it seems that those hours at the end were worthy. However, when he realizes what he himself needs - the girl in the power suit - he finds he's all empty talk and no real walk. Everything is about the image until that moment for him and as he begins to realize that fame and fortune have cost him his morality... he is given a chance to rediscover his true self when the elaborate image he has created is taken down! Nice message, nice acting, average story, with excellent camera work. That's it!
MisterYoda ?
Super Reviewer
Syrup Quotes
There are no approved quotes yet for this movie.