T2 Trainspotting
(2017)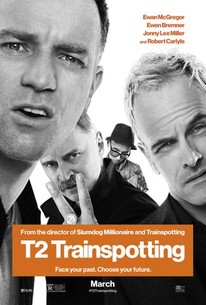 TOMATOMETER
AUDIENCE SCORE
Critic Consensus: T2 Trainspotting adds an intoxicating, emotionally resonant postscript to its classic predecessor, even without fully recapturing the original's fresh, subversive thrill.
Movie Info
First there was an opportunity......then there was a betrayal. Twenty years have gone by. Much has changed but just as much remains the same. Mark Renton returns to the only place he can ever call home.They are waiting for him: Spud, Sick Boy, and Begbie. Other old friends are waiting too: sorrow, loss, joy, vengeance, hatred, friendship, love, longing, fear, regret, diamorphine, self-destruction and mortal danger, they are all lined up to welcome him, ready to join the dance.
News & Interviews for T2 Trainspotting
Critic Reviews for T2 Trainspotting
Audience Reviews for T2 Trainspotting
It?s actually pretty decent for a sequel, but my issue was I just didn't care about these characters anymore. It was entertaining when they were young and stupid, now they are just old, sad and pathetic. And the drug problems where I live are so much worse than when the original film came out... I am fed up with druggies and lowlifes in real life, it's not fun to watch them on a movie.
Nicki Marie
Super Reviewer
It's very rare that a sequel to a film is made almost a decade and a half later, stapling itself as a worthy successor, bringing back everything you loved about the original movie. Yes, it's been done many times before, but it's always a risk. That being said, I had no worries about Danny Boyle bringing back Trainspotting for a sequel, because the original was a film that benefitted from the time period it was in, so I was very much looking forward to the evolution of these characters in today's day and age. Although I don't think this film quite matches what made the first one special, I think it comes very close in making itself relevant. Sadly, not too many people gave their money to the domestic box office, so I'm here to say that it's definitely worth your time if you're a fan of the first film and have been hesitating. As mentioned above, I have to admit that the fans of the original should definitely look forward to viewing this sequel, but it's really only for those people. I personally think we're past the time of too many viewers discovering the original movie, unless they are die hard movie fans. That being said, let's dive into this wonderful sequel. Picking up 20 years after the events of the original, we see where each of these men ended up and (without spoiling anything) who still holds a grudge. Once again, this film explores the depths of friendship and life itself. Society has changed since the first film and this movie isn't afraid to showcase the good and the bad. For these reasons, it was definitely worth bringing back to the screen. Whether or not you wish to see more of certain characters, Ewan McGregor's portrayal of Renton/Mark and Jonny Lee Miller's portrayal of Simon. These two are reunited and become the central focus of the film, allowing other plot details to blossoms throughout. T2 Trainspotting is a far superior film in terms of displaying what the world is like and how technology is consuming us on a daily basis, which is not something that the first film could benefit from, so that was an improvement in my opinion. Where the film didn't quite live up to its predecessor, was in the simplistic story area. The original was all about drug use and the falling out of friendships by the end of the film. This film tries to wrap up too many loose ends, ultimately becoming slightly convoluted, albeit very effective at the same time. While the first film was incredible in terms of cinematography and visual storytelling, T2 Trainspotting improves tenfold in that department. From visually showing what a character is doing in a different light, to displaying the division of a friendship in a damn bathroom stall, to the fantastic camera movements getting you inside the minds of these characters, I found myself profoundly entranced by this movie. Although I enjoyed the premise of the first one more than this instalment, I found this sequel to be an improvement in almost every other way. I didn't expect to say this about such an offbeat movie like a sequel to Trainspotting, but this is a beautiful movie to look at. In the end, director Danny Boyle has crafted yet another very well-made film. It may not reach the heights of its predecessor in terms of storytelling, but it's visually stunning in every conceivable way. T2 Trainspotting is a sequel nobody really needed, but we should be lucky to have gotten. I can definitely recommend this movie to fans of the first film, but it's not accessible to newcomers. There are themes that newcomers can relate to, but the film as a whole just won't attract those who haven't seen the first portion of the story from 13 years ago. With a great soundtrack, fantastic direction, a very devoted cast, and a satisfying conclusion, this is a film that was well worth making. It's a little slow at times and I didn't always find myself invested in everyone's motivations, but it's still a great movie nonetheless.
½
T2 is an enjoyable production but principally aimed at idolizing the original for fans. The soundtrack includes remixed pieces of Underworld's "Born Slippy (Nuxx)" and Iggy Pop's "Lust for Life" as callbacks to the first feature. A few well-placed vignettes of old footage are strategically woven into the narrative. Additionally, much of the dialogue recalls the former film. Renton has a conversation with Veronika that references the famous "Choose Life" speech: "Choose Facebook, Twitter, Instagram and hope that someone, somewhere cares..." The pacing is equally brisk and there are plenty of random vignettes that will make you laugh. One entertaining bit has Renton and Simon distracting the clientele of a Protestant pub with an anti-Catholic chant after robbing them blind. In another scene, Renton and Begbie discover the presence of the other in a most amusing way. The scene is perfectly shot. The irreverent humor is still is there, although it's neither revolutionary nor necessary. T2 works but it needs the other to exist. It has been fashioned as an exceptionally well-made companion piece. fastfilmreviews.com
Mark Hobin
Super Reviewer
T2 Trainspotting Quotes
There are no approved quotes yet for this movie.