Table 19
(2017)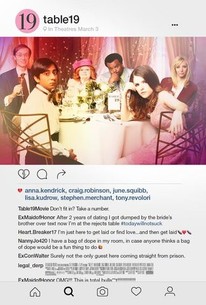 TOMATOMETER
AUDIENCE SCORE
Critic Consensus: Table 19 is marginally more entertaining than actually sitting with a table full of strangers at a wedding -- although most screenings won't come with an open bar, which makes it a wash.
Movie Info
Ex-maid of honor Eloise- having been relieved of her duties after being unceremoniously dumped by the best man via text - decides to hold her head up high and attend her oldest friend's wedding anyway. She finds herself seated at the 'random' table in the back of the ballroom with a disparate group of strangers, most of whom should have known to just send regrets. As everyone's secrets are revealed, Eloise learns a thing or two from the denizens of Table 19. Friendships - and even a little romance - can happen under the most unlikely circumstances.
Critic Reviews for Table 19
Audience Reviews for Table 19
½
If you want to read the review I wrote for this, go to letterboxd.com/HankIsDead514. I can no longer post long reviews on here and I'm not writing two separate reviews for the same movie.
Jesse Ortega
Super Reviewer
½
Table 19 is a film that plays out very much like its subject matter. Like a wedding, you don't really know what you're gonna get when you attend a wedding. There could be absolute chaos or there could be heartwarming tears. Most of the time, it's somewhere in the middle. Table 19 has a bit of everything and for those reasons, it's undoubtedly an entertaining film, but it can be a bit of a mess. If this film wasn't recommended to me by a friend of mine, I don't know that I would have come across it. Which is shocking, because the cast is great from top to bottom. Anna Kendrick, Stephen Merchant, Wyatt Russell, June Squibb, Lisa Kudrow, Tony Revolori, and Craig Robinson round out this hodgepodge of a cast that works very well together on screen. The credit should certainly be given to the actors for their chemistry, but the Duplass brothers should also be noted for putting together yet another quirky and original script to the screen. I think where the problems for the film comes up is in the direction and rhythm of the storytellng. Right from the beginning we are sprung right into each of the ensembles brief introduction to the wedding, without much background to each character. For some characters, like Stephen Merchant's strange but hilarious Walter, or June Squibb's heart-wrenching turn as Jo, not providing much of a backstory was a good thing. But there are moments towards the end of the film that would have worked far more emotionally if there was more time spent with each character. However, thanks to the incredible cast, there are definitely some moving moments. The relationship each of them form by sitting at the un-paid-attention to Table 19 proves to be special for all of them for different reasons. So in that way, I'm on a completely different level than critics are for this film. Even with its bumpy direction at times, there's more to like than dislike. 7.0/10
Thomas Drufke
Super Reviewer
Anna Kendrick usually finds herself in niche roles as the girl who can't quite seem to land the right guy until everything comes crashing down on top of her first. In this feature brought to us by Jeff Blitz (with a little help from the Duplass Brothers), Kendrick once again finds herself in a lover's quarrel that seems both unreal and far fetched. Table 19 seems standard enough to introduce us to a group of people who could keep us entertained over 90 minutes, but instead we get a grab-bag group of people who don't really develop any real interest for the audience to want to root for. Not even Kendrick's character develops enough to have her become someone worth seeing succeed. She's just a little too pouty and mopey to climb out of her rut despite everything working out in the end. The supporting cast has a handful of familiar faces, but everyone is too one-note. What makes the film tough to understand is whether or not Blitz is attempting to have this stand alone as a comedy with some underlying serious tones or vice versa. It comes off as awkward. Table 19 is only worth the watch if you find yourself wondering if Kendrick can carry a role like this, but otherwise, it's one worth waiting on for the bin.
Lane Zieben
Super Reviewer
Table 19 Quotes
There are no approved quotes yet for this movie.