Tabu: A Story of the South Seas
(1931)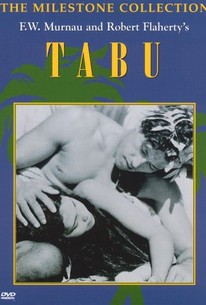 Movie Info
This is a sensual tale of doomed love, filmed on location in Tahiti.
Critic Reviews for Tabu: A Story of the South Seas
Audience Reviews for Tabu: A Story of the South Seas
An young innocent South Sea island couple runs afoul of some ancient native tradition ("we need a virgin to throw into the volcano") that dooms their happy love. Filmed in Bora Bora, rarely has the French philosophical ideal of the glory of the primitive savage been portrayed as well.
Kevin M. Williams
Super Reviewer
The backstory of "Tabu" is more impressive than what appears on screen. Shot in Bora Bora with a cast of "South Sea Islanders and a few half-castes and Chinese," this 1931 silent does a remarkable job of choreographing untrained natives (grass skirts and all) into a cohesive story. There are no dialogue cards and, instead, crucial plot information is craftily delivered through shots of diary entries, ship logs and scrolls (luckily for us, the natives print in perfect block letters). The plot is essentially an exotic version of "Romeo and Juliet." Seemingly in their late teens, Reri and Matahi are innocent lovers amid their idyllic community, spending their days dancing, swimming and fishing. But trouble comes when a ship docks offshore, carrying white men and representatives from a distant tribe. This tribe's religion apparently requires a sacred maiden to symbolize all that's good and righteous. She is "tabu" (we would say "taboo") and must remain absolutely pure and untouched -- not even the subject of desirous looks. The visiting chief, Hitu, announces that they need a new girl for this role, and their choice is Reri. This is a great honor. Reri is obligated to sail away with the ship, which naturally devastates her and Matahi. Matahi and Reri sneak away in the night and sail to a more civilized, white-dominated island. There, they are welcomed into a fishing village where Matahi becomes renowned as a pearl diver. But the "tabu" curse follows them, and it's only a matter of time before the betrayed tribesmen track them down. "Tabu" is only 85 minutes but still feels overlong. Its simple plot could have fit into an hour. The film was an unusual collaboration between F.W. Murnau (who tragically died a week before its premiere) and Robert Flaherty ("Nanook of the North"), and its picturesque choreography won Floyd Crosby (father of singer David Crosby) an Oscar. That trio's work is impeccable, but Hugo Riesenfeld's syrupy score is a bit alienating -- it gives the film the ambience of a dated Disney travelogue for kids. I kept expecting an avuncular narrator to enter, winking about how much fun the waterfall lagoon looks.
Eric Broome
Super Reviewer
½
Has a very fresh feel to it. Saw this at #271 on a "Top 1000 Movies Ever" list and thought it'd be worth a look. It's essentially a poetic/naturalist/neorealistic retelling of Sunrise, if that makes any sense. In everyman terms- its simple, the performances are splendid, and F. W. Murnau delivers elegantly shot exotic local cinematography of waterfalls and jungles and native festivals, and the beauty comes from this simplicity. The ending made the movie for me. Not in the same league as Murnau's Faust or Nosferatu or Sunrise, since those are all haunting and strewn with shadows. More like a National Geographic program with a "star crossed lovers" storyline. Since it's a silent film, expect your interest to be eroded by slowness, but nevertheless it's worth seeing. 89/100
Simeon Deutsch
Super Reviewer
Tabu: A Story of the South Seas Quotes
There are no approved quotes yet for this movie.