Tag
(2018)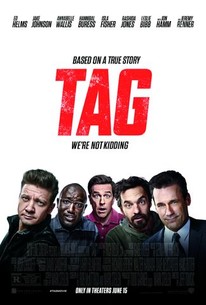 Movie Info
For one month every year, five highly competitive friends hit the ground running in a no-holds-barred game of tag they've been playing since the first grade--risking their necks, their jobs and their relationships to take each other down with the battle cry "You're It!" This year, the game coincides with the wedding of their only undefeated player, which should finally make him an easy target. But he knows they're coming... and he's ready. Based on a true story, "Tag" shows how far some guys will go to be the last man standing.
News & Interviews for Tag
Audience Reviews for Tag
A fun goofball comedy, Tag delivers a lot of laughs. The film follows a group of friends who have been playing a game of tag for over 20-years as they get together for one last round before one of their players retires with an undefeated record. Starring Ed Helms, Jon Hamm, Isla Fisher, and Jeremy Renner, the film has a strong cast that has good chemistry together and works well with this type of broad comedy. Yet, as outlandish as the jokes gets, the film has a surprising amount of heart. Entertaining and lighthearted, Tag is a hilarious film with a positive and touching message about friendship.
Dann Michalski
Super Reviewer
A real life 30 year game of tag "you're it!" is the basis of this light summer comedy, that stars a pretty decent cast. You won't remember much of it afterwards, but you won't feel as if you've been gypped with half-assed, phoned-in performances miming a half-assed, phoned in script either. And it might well be rewatchable to boot. Okay stuff.
Kevin M. Williams
Super Reviewer
½
ag is based on the true story of a group of grown men who continue to play a highly competitive game of tag for 30 years. There are even real clips of the real men before the end credits, raising the hope for a potential documentary on the subject. The Hollywood version is a sprightly ensemble comedy that's not afraid to go silly or dark in its pursuit of laughs. Given the nature of its premise, there is a lot of slapstick to behold, but it was cleverly staged, routinely netting some big laughs from me. This is a definitely adults-only R-rated venture and the movie proudly wears this identity on its sleeve, finding strange and exciting comic detours that can walk a fine tonal line, like an ongoing bit about miscarriages that had me wincing as much as I was laughing. The main characters are all relatively familiar types; Ed Helms is the high-strung dweeb, Jake Johnson is a sarcastic stoner, Jon Hamm is a smarmy exec, Hannibal Buress is as laconic as his standup persona. There are a string of supporting characters (often female) that add very little, including a rekindled love triangle with Rashida Jones, a journalist who tags along on the game and adds nothing, and Isla Fisher as the grating, always-yelling, intense wife to Helms. Surprisingly, the funniest member of the movie is Jeremy Renner, an actor who heretofore had never shown much comic ability in movies. He's a formidable opponent, and every time he went into his Sherlock Holmes-styled voice over detailing the steps and mistakes of his friends, I loved it. Also, strangely, Renner's arms are actually CGI arms since he broke them days into filming. You would never be able to tell. I appreciated that Tag is directed as a comedy even during its action set pieces. It looks at action through the lens of comedy and taps into the absurdity. Overall, Tag is a fun, rambunctious comedy with some dark impulses yet it still finds room for sentiment that doesn't feel entirely out of place. 2018 is shaping up to be the year of the hearty, enjoyable R-rated comedy with Tag joining the ranks of Blockers and Game Night. Catch it while you can if the prospect of men behaving like overgrown children appeals. Nate's Grade: B
Nate Zoebl
Super Reviewer
Tag Quotes
There are no approved quotes yet for this movie.