Tai Chi Zero
(2012)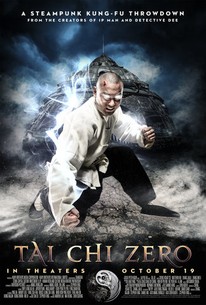 TOMATOMETER
AUDIENCE SCORE
Critic Consensus: Tai Chi Zero may not have much to offer beyond dazzling action, but its infectious energy means fans of the genre should still come away sufficiently entertained.
Movie Info
In legendary Chen Village, everyone is a martial arts master, using their powerful Chen Style Tai Chi in all aspects of their lives. Lu Chan has arrived to train, but the villagers are forbidden to teach Chen Style to outsiders, and do their best to discourage him by challenging him to a series of fights. Everyone, from strong men to young children, defeats him using their Tai Chi moves. But when a man from the village's past returns with a frightening steampowered machine and plans to build a railroad through the village at any costs, the villagers realize they may have no choice but to put their faith in Lu Chan... who has a secret power of his own. -- (C) Variance
News & Interviews for Tai Chi Zero
Critic Reviews for Tai Chi Zero
Audience Reviews for Tai Chi Zero
Honestly, once you've seen Kung Fu Hustle, it's kinda hard to be surprised, shocked or enthralled by a film attempting to be silly, goofy and sometimes even video-game inspired. I'm not even suggesting that Kung Fu Hustle is the best kun fu film I've ever seen, because it is not, it's just that that film has an unmatched sense of style and silliness that is hard to duplicate. With that said, I did think that this was actually quite a fun martial arts films. I think they do mix it up from the usual martial arts films, while also paying tribute and including many martial arts legends, trainers and practitioners. The film does mix in a surprising steampunk element in the film what with Eddie Peng's character trying to install a railway station through his former village and the villagers, obviously set in their ways, resisting and fighting back against the western technology. In the middle of all this fits in Lu Chan, who has come to Chen village in order to learn their style of kung fu so he won't die. How they explain this is silly, really, and that is that Lu has Horn of the Three Blossoms, I think they call it, on his forehead. Every time he's hit on this 'horn' he becomes like the hulk, super strong and deadly. The thing is that it also comes with a killer nosebleed. So, essentially, every time someone hits on him this 'horn' it gets him closer to death. When the horn turns black is when Lu Chan will die. Learning the Chen style kung fu will, apparently, save his life. Got all that? Good. The film, for the most part, sees Lu trying to earn his way into the village by fighting some of the villagers. This leads to some pretty cool fight scenes. I particularly liked the one with Brother Tofu, that one was pretty entertaining. All of them were honestly, but I enjoyed that one the most. What I like about the film is that it doesn't take itself seriously, in the least. Some of the things it does aren't necessarily unexpected, but they're definitely surprising. I also liked how Peng's character progressed. I wouldn't call him villainous as much as he's dismissive of the villagers and the life they lead. Perhaps that paints him as a villain in the eyes of some, but I don't think he was. Part of me honestly think that he started out wanting to do some good and help a village that made fun of him because he was an 'outsider', so to speak. Of course that all changes later in the film, when it's clear that he's now a villain after a certain event happens. And, you know what, it's actually well-done and understandable. It's not like he wasn't a dick for no reason. He has a perfectly good reason for going to the 'dark side', if you will. So I thought that was, surprisingly, well-done. And the climactic fight was also really cool and fun. Any scene where fruits and vegetables are used to defeat soldiers with guns will always be ok in my book. The ending itself is a bit of an annoying cliffhanger to get you to want to see the sequel. Which is fine, but it felt like this film really isn't complete. It's also not a problem since Netflix also offers the sequel, Tai Chi Hero, which is the next film I'll review, but the ending is still slightly annoying. With that said, this isn't the best kung fu film you will ever see, hell even Iron Monkey, a film almost a quarter of a century old, is better than this. But I think most people will have a good time with it. I certainly did. I'd recommend it if you have Netflix.
Jesse Ortega
Super Reviewer
½
Ever since he was a kid, Yang Lu Chan(Jayden Yuan) has had the ability to mimic the martial arts skills of others, often putting them to good use. The downside is that it is killing him. After he is the only survivor of a sneak attack, he travels to a remote village to learn how to safely harness his abilities. And is instantly rebuffed. To be fair, the villagers have bigger things on their mind like the coming railroad and electricity but the presentation from Chen Yu Niang(Angelababy) and Fang Zi Jing(Eddie Peng) does not go exactly as planned. "Tai Chi Zero" is enjoyable on multiple levels as it combines silent films, video games and martial arts into one fun concoction. And the in-movie credits while potentially distracting are not an entirely bad idea. So, in the end, this inventive film keeps things moving which causes it to not sink under the weight of being the Great Steampunk Hope that takes place at a pivotal point in China's history.
Cynthia S.
Super Reviewer
Tai Chi Zero Quotes
There are no approved quotes yet for this movie.