Tajja
(2006)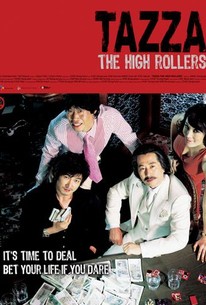 AUDIENCE SCORE
Critic Consensus: No consensus yet.
Movie Info
A guy with a talent for cards makes his way into the dangerous world of underground gambling in this crime thriller from South Korea. Go-ni (Jo Seung-woo) is a small-town guy with a big appetite for gambling. Convinced he's on a hot streak one evening during a card game, Go-ni bets his life savings on a hand of hwatu, only to lose to a crooked cardsharp. Determined to get revenge, Go-ni sets out to find the guy who cheated him and win back his money. Go-ni's travels lead him to Pyeong Gyeong-jang (Baek Yun-shik), an unusually gifted card player who has gotten out of the game. Pyeong sees a talented protégé in Go-ni and takes him under his wing, introducing him to Madam Jeong (Kim Hye-su), an equally gifted female gambler. Jeong is attracted to the young and handsome Go-ni and takes him on as both a student and a lover, but the young man soon learns how dangerous a gambler's trade can be when he wins a hefty bankroll from Kwak Cheol-yeong (Kim Eung-su), an underworld kingpin who doesn't take losing lightly. Go-ni also foolishly breaks off his affair with Jeong when he falls for Hwa-ran (Lee Su-gyeong), a beautiful woman who runs a nightspot, and makes an enemy of A-gui (Kim Yun-seok), a thug with a hair-trigger temper who holds a grudge against Pyeong. As the various characters come together for a major hwatu tournament, Go-ni struggles to keep his mind on the game as he's forced to keep his eye peeled for enemies prepared to claim his life. ~ Mark Deming, Rovi
Critic Reviews for Tajja
All Critics (3) | Top Critics (1) | Fresh (3) | Rotten (0)
It's a ton of fun, a totally irresistible tale of gambling, greed, love and violence. With gorgeous actors, designer clothes and thrilling action, it's fast-moving (even at 2 hours, 20 minutes) popcorn entertainment.
...a sort of demented Karate Kid of the cards
May 24, 2007
The twists and turns continue until the very end of Choi's mesmerizing, high-energy romp, whose 139 minutes zip by like a round of speed poker.
Audience Reviews for Tajja
½
Fun, good cast, it does feel that it takes way too much time in telling the story, but the characters are well written and engaging. Kim Hye-Su made me touch myself several times.
Tsubaki Sanjuro
Super Reviewer
Tajja Quotes
There are no approved quotes yet for this movie.