Take Me Out to the Ball Game
(1949)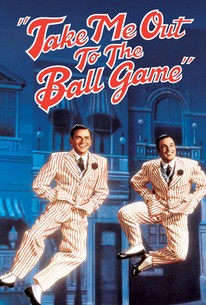 Take Me Out to the Ball Game Photos
Movie Info
So baseball pictures never make money, eh? Try telling that to MGM, which raked in a box office gross of $4 million on their 1949 baseball musical Take Me Out to the Ball Game. Set in 1906, the film concerns the adventures and misadventures of The Wolves, a champion ball club. The team's success is contingent upon the double-play combination of "O'Brien to Ryan to Goldberg." But while Goldberg (Jules Munshin) lives to play baseball, O'Brien (Gene Kelly) and Ryan (Frank Sinatra) would rather pursue their off-season vaudeville career. Both erstwhile song-and-dance men decide to stick around on the baseball diamond when they mutually fall in love with the Wolves' new owner, the lovely K.C. Higgins (Esther Williams). Though O'Brien wins K.C. for himself, Ryan is compensated with the aggressively affectionate Shirley Delwyn (Betty Garrett). Gambler Joe Lorgan (Edward Arnold), who has bet heavily against the Wolves in an upcoming Big Game, woos O'Brien away from the team with promises of a big role in an upcoming musical comedy. Having let down K.C. and the rest of the team, O'Brien vows to redeem himself by playing in the crucial game. Lorgan gets wind of this, and orders his henchmen to do away with O'Brien. Hoping to shield his buddy from harm, Ryan beans O'Brien with a pitched ball, thereby incapacitating the prodigal player. The crooks are vanquished, and K.C. forgives O'Brien. But upon learning that Ryan had knocked him out, O'Brien charges onto the diamond, thirsting for revenge. Believe it or not, this action results in no fewer than two winning home runs! We offer you this detailed synopsis because it's likely that you'll be too entertained by the film's musical numbers to pay any attention to the story. Outside of the title number and Gene Kelly's solo "The Hat My Father Wore on St. Patrick's Day," the picture's best songs are contributed by Betty Comden, Adolf Green and Roger Edens. Take Me Out to the Ball Game is so delightful as it stands that one can only wonder what the film would have looked like had MGM's first choice Kathryn Grayson--or the studio's second choice, Judy Garland--played the Esther Williams role (In a similar vein, the Frank Sinatra character was originally to have been played by real-life Brooklyn Dodgers manager Leo Durocher!)
Critic Reviews for Take Me Out to the Ball Game
Audience Reviews for Take Me Out to the Ball Game
Oh my god Esther Williams is SO annoying, no wonder Gene Kelly was hard on her in rehearsal or whatever. Whenever she's off the screen I breathe a sigh of relief, but then she and Gene Kelly have to get together, and then I just want to die inside.
Jennifer Xu
Super Reviewer
½
Considering the talent both in front of and behind the camera this is a surprisingly bland albeit colorful musical. Everything is bandbox pretty but there is an uninspired air to the whole enterprise. They do manage to get Williams in the pool once even though the theme of the movie is baseball.
½
This is a very fun and funny romantic musical baseball movie starring Sinatra and Kelly.
Take Me Out to the Ball Game Quotes
There are no approved quotes yet for this movie.