Take the Money and Run
(1969)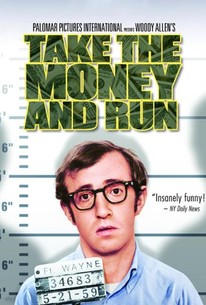 Take the Money and Run Photos
Movie Info
When Woody Allen's fans refer to his "earlier, funnier" pictures, they often cite his directorial debut as a shining example. Co-written by Allen and Mickey Rose, this side-splitting takeoff of crime documentaries stars Allen as Virgil Starkwell, a sweetly inept career criminal. The film's most celebrated sequence involves Virgil's inability to write coherent holdup notes ("I have a gub"), but others include Virgil's losing battle with a recalcitrant coke machine and his misguided effort to emulate John Dillinger by carving a gun out of a bar of soap (his weapon disintegrates in a heavy rain). As was often the case in Allen's early films, not all the gags work, but for the most part, Take the Money and Run is a delight, enhanced by the on-target supporting performances of Janet Margolin, Marcel Hillaire, and (uncredited) Louise Lasser, as well as the energetic musical score of Marvin Hamlisch.
News & Interviews for Take the Money and Run
Critic Reviews for Take the Money and Run
Audience Reviews for Take the Money and Run
½
It doesn't matter how I look at it, the humor of this early Wood Allen semi-mockumentary doesn't work for me at all with those gags that may look great on paper but are a failure on screen, and it is just irritating to see one funny joke for every three or four terrible ones.
Carlos Magalhães
Super Reviewer
Take the Money and Run is a surrealist crime comedy that's little more than a loosely bound series of gags, and yet somehow the whole thing works. Woody Allen plays Virgil Starkwell, perhaps the world's worst criminal. He gets caught trying to rob a bank because the tellers can't read his hold-up note. He tries to pull another bank job with a gang, and a separate gang holds up the same bank at the very same time. Life is a series of hard knocks for Virgil, until one day when he's about to rob a beautiful girl, and decides to talk to her instead. The two soon become a couple and marry, and it's here the movie makes it's strongest point. The dialogue is at it's strongest and most realistic in the couple's exchanges, especially in the way she refuses to allow him to get away with lying. She knows him all too well, you see. The rest of the world are idiots, though. Unable to recognize even the lamest of schemes, everyone from cops and judges on down to the everyday people are all at the mercy of slightly-above-average-intelligence Virgil, and yet he always manages to do himself in due to his extreme ineptitude. In a movie that's just a series of gags, with the barest and loosest of plots, its fortunate that most of time it works.
Devon Bott
Super Reviewer
I remember I was reading some Woody Allen Q&A session with Eric Lax and he was talking about how inexperienced he was while making this movie and how difficult it was to direct, so I was surprised to find that this was actually a very tightly structured narrative. All the physical comedy scenes are priceless but it's never like tiresome joke, joke, joke one after the other. The story works passably as well. It's actually one of the better comedies, believe it or not - miles ahead of Bananas and Love and Death. And the women Woody goes for are all so pretty and awesome too - sweet and willing to take a joke, but not in a wallflower sense at all.
Jennifer Xu
Super Reviewer
Take the Money and Run Quotes
| | |
| --- | --- |
| The Narrator: | Although he does not make the 10 Most Wanted list, he does win Gangster of the Year Award and is asked to speak at many luncheons and universities. |
| | |
| --- | --- |
| Virgil Starkwell: | Nobody's going to be wearing beige to a bank robbery, it's in poor taste. |
| | |
| --- | --- |
| The Narrator: | On July 11, Virgil and Louise marry. It is a simple ceremony following what he later described as a deeply moving blood test. |
| | |
| --- | --- |
| Virgil Starkwell: | All I know is my heart was really pounding and I felt, I felt a funny tingling all over, you know, and I, I don't know, I was either in love or, ah, I had smallpox. |